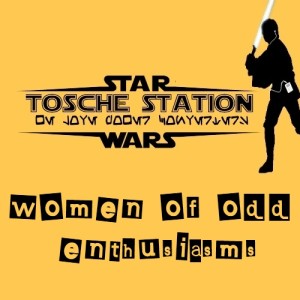 Play in new window
|
Download
This month's episode is just in time for Halloween.  The air is getting crisp, the wind is raking through the leaves, and there's pumpkin spice in everything.  That can mean only one thing—it's time to bring the Harry Potter love.  Join Bria and Emily as they work through some thought-provoking questions regarding the magical world—from everything regarding Snape's character to what house Batman would be sorted into.  Also hear our thoughts on new TV series Sleepy Hollow and Marvel's Agents of SHIELD.
Our monthly book recommendations can be found at Amazon.com.
Emily: A Discovery of Witches by Deborah Harkness
Bria: The Night Circus by Erin Morgenstern
You can contact Bria on  Twitter @chaosbria, and Emily @carrkicksdoor.  Women of Odd Enthusiasms is part of the Tosche Station Radio Network and affiliated with Tosche-Station.net and a part of Majestic Giraffe Productions. If you like what you hear, please leave a review on the iTunes Music Store. We can also be found on Facebook and Twitter.
This podcast has been brought to you in part by Her Universe and Audible.com.