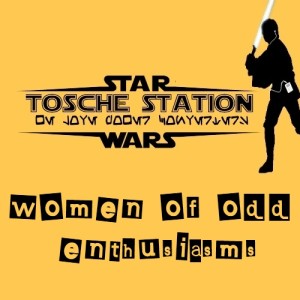 Play in new window
|
Download
Bria and Emily bring you the first episode of Women of Odd Enthusiasms: the monthly podcast where they bring you the best of whatever they happen to be excited about right now, be it crafting, cosplay or computer games.  This month's episode is all about the upcoming season of TV, as our intrepid hosts discuss what to watch, what to DVR, and what to skip.  Sit back and relax, because WOE is us!
Our monthly book recommendations can be found at Amazon.com.
Emily: The Physick Book of Deliverance Dane by Katherine Howe
Bria: Alif the Unseen by G. Willow Wilson
You can contact Bria on  Twitter @chaosbria, and Emily @carrkicksdoor.  Women of Odd Enthusiasms is part of the Tosche Station Radio Network and affiliated with Tosche-Station.net and a part of Majestic Giraffe Productions. If you like what you hear, please leave a review on the iTunes Music Store. We can also be found on Facebook and Twitter.
This podcast has been brought to you in part by Her Universe and Audible.com.