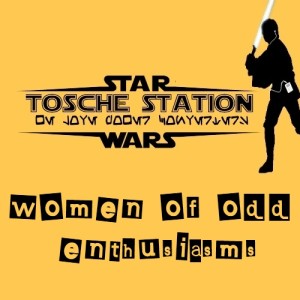 Play in new window
|
Download
Episode #3: Thankful for Thor
What are we thankful for this month?  How about Thor: The Dark World, Marvel's Agents of SHIELD and Phase 2 of Marvel's Cinematic Universe.  Bria and Emily discuss all this and more on this episode of Women of Odd Enthusiasms.
Our monthly book recommendations can be found at Amazon.com.
Emily: The Age of Wonder: How the Romantic Generation Discovered the Beauty and Terror of Science by Richard Holmes.
Bria: Morning Glories, Vol. 1 (Various Authors)
Captain America: The Winter Soldier Ultimate Collection Vol. 1 by Ed Brubraker
You can contact Bria on  Twitter @chaosbria, and Emily @carrkicksdoor.  Women of Odd Enthusiasms is part of the Tosche Station Radio Network and affiliated with Tosche-Station.net and a part of Majestic Giraffe Productions. If you like what you hear, please leave a review on the iTunes Music Store. We can also be found on Facebook and Twitter.
This podcast has been brought to you in part by Her Universe and Audible.com.