This post contains officially released information about The Force Awakens. If you want no spoilers whatsover, click away now. 
This past weekend at Celebration Anaheim, J.J. Abrams opened his mystery box ever so slightly and gave us a literal teaser of what we have to look forward to in The Force Awakens. Other than a few Force for Change videos, an 88-second teaser released in November, and eight trading cards, there's been little officially announced information about the probable most anticipated movie of all time. Leading up to Celebration, everyone was speculating about what — if anything — Abrams would reveal and whether or not it would live up to the hype.
He didn't reveal a lot.
But it was enough.
And it completely exceeded my expectations.
The Force Awakens panel kicked of the convention on Thursday morning and included appearances by Abrams and Kathleen Kennedy; R2-D2, a fully-functioning BB-8, and their builders, Lee Towersey and Oliver Steeples; John Boyega, Daisy Ridley, and Oscar Isaac, our new big three; the new stormtroopers; and legacy actors Anthony Daniels, Carrie Fisher, Peter Mayhew, and Mark Hamill. Amidst the squealing and flailing, what did we learn about upcoming movie?
The desert planet seen in the first teaser trailer is Jakku. (Also revealed at Celebration: the Battle of Jakku takes place one year after Return of the Jedi and will feature in the upcoming Battlefront video game.)
Rey is a scavenger who meets Finn among dire circumstances, and they set off on an adventure.
Finn is, in fact, a stormtrooper (at least in the beginning of the film).
Poe Dameron is the best frickin starpilot in the galaxy, and is sent on a mission by a certain princess. (I wonder who that could be.)
We also saw new stills of the three leads, as well as other behind the scenes photos.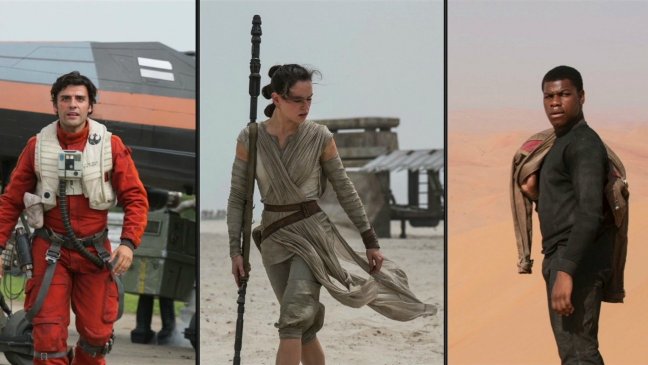 Finally, at the end of the panel, Abrams showed us another teaser, and it was glorious. I could pick it apart until December 18, and I will start right now:
The teaser starts with a wide pan showing a speeder flying towards wreckage from the Battle of Jakku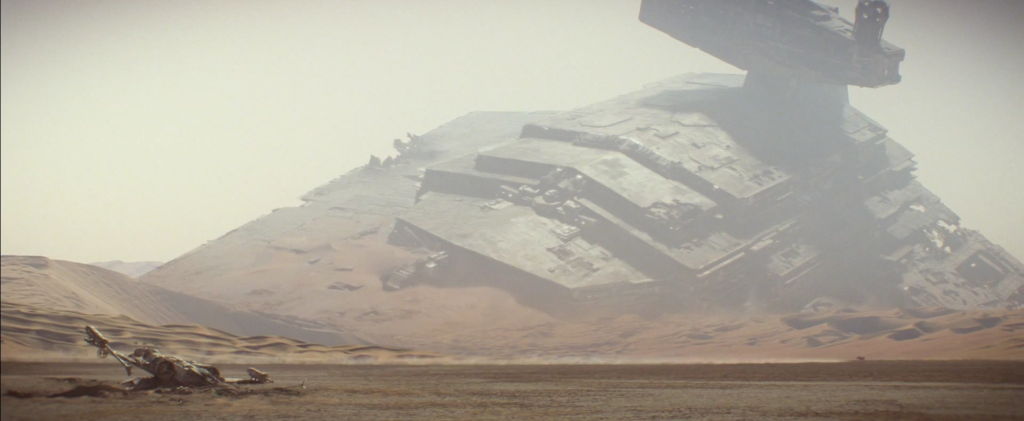 Black screen with voiceover narration by LUKE SKYWALKER, with lines from Return of the Jedi (VO: The Force is strong in my family)
The battered helmet of Darth Vader, with his breathing in the background (VO: My father has it)
A hooded figure (Luke, no doubt) patting R2's dome on some sort of lava planet (VO: I have it)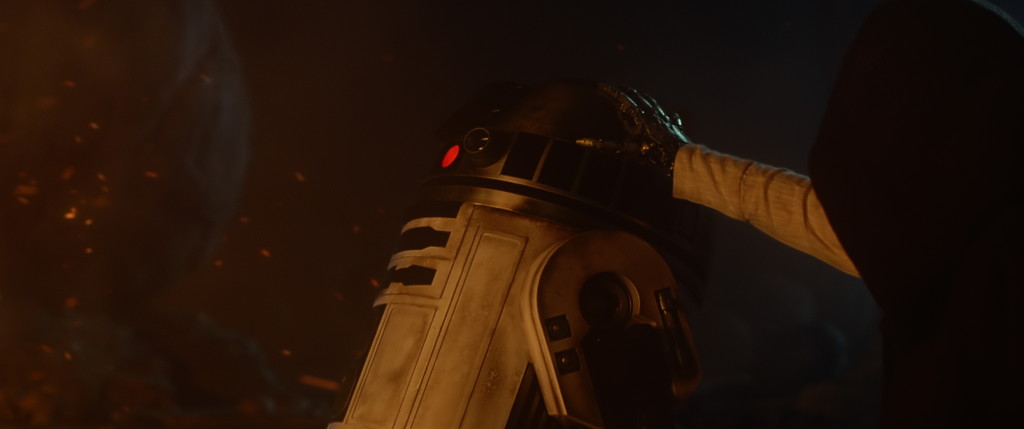 The handing off of Luke's first lightsaber, presumably to Leia (VO: My sister has it)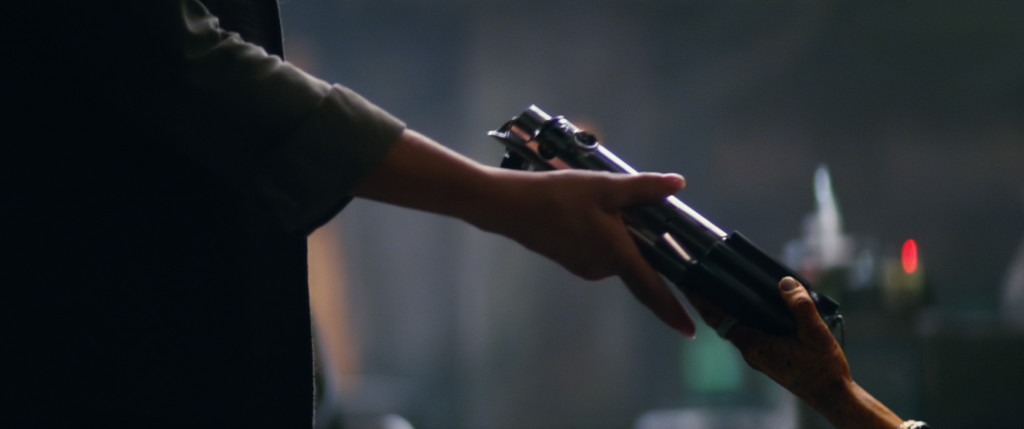 Black screen (VO: You have that power too)
X-wings (with a shot of Poe triumphantly cheering) flying over water
Kylo Ren swinging his lightsaber (the first shot we've seen of him from the front)
Rey, Finn, and BB-8 running away from TIE fighters attacking some sort of desert settlement (does this mean BB-8 belongs to Rey?)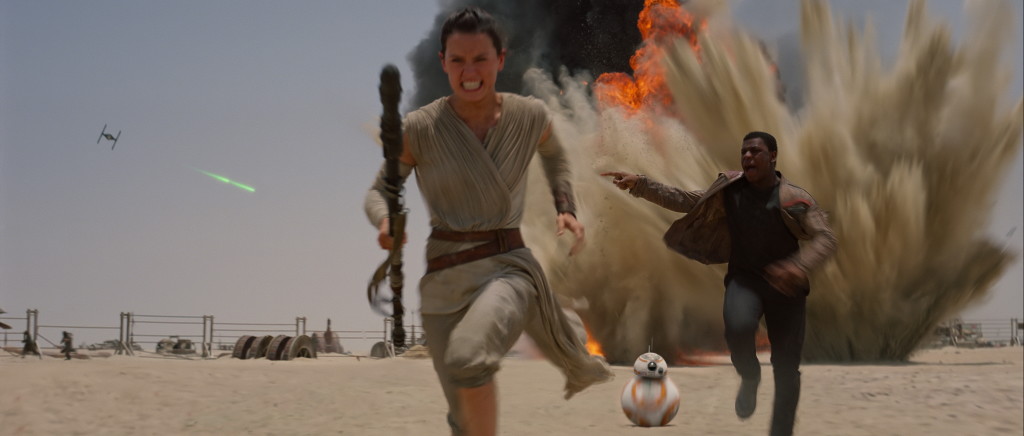 A close-up of masked Kylo Ren in a battle stance, with stormtroopers in the background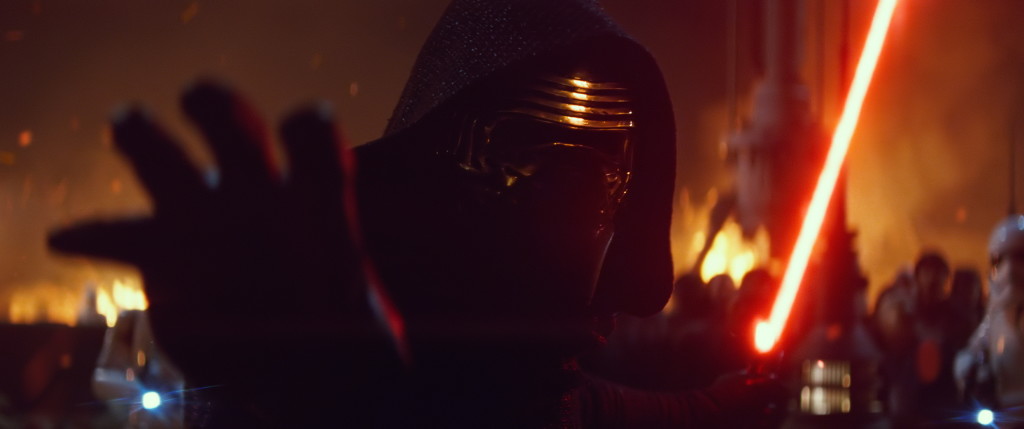 Some sort of official gathering of stormtroopers (and other bad guys, including a robed figure — Kylo again?)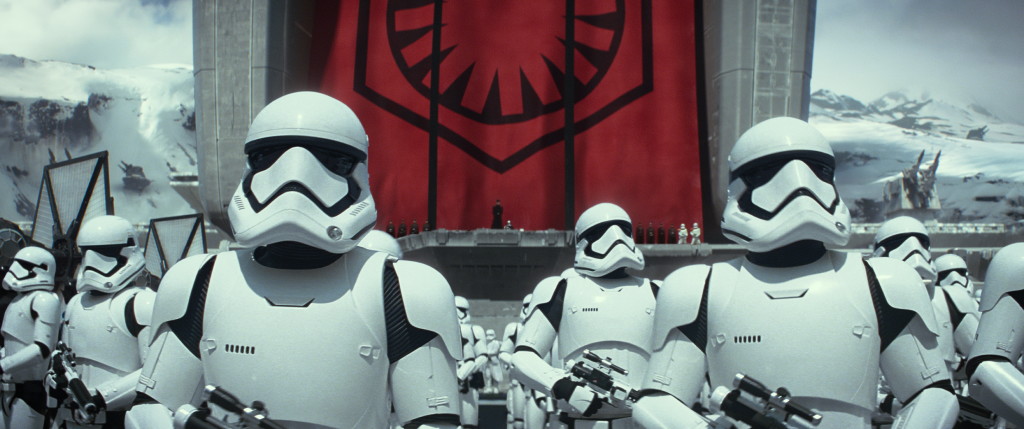 A close-up of Rey
TIE fighters swooping in (on what I'm assuming is Jakku)
A TIE fighter firing on other TIEs and stormtroopers inside of a ship's docking bay
Finn yanking off his stormtrooper helmet
Ships flying towards a Star Destroyer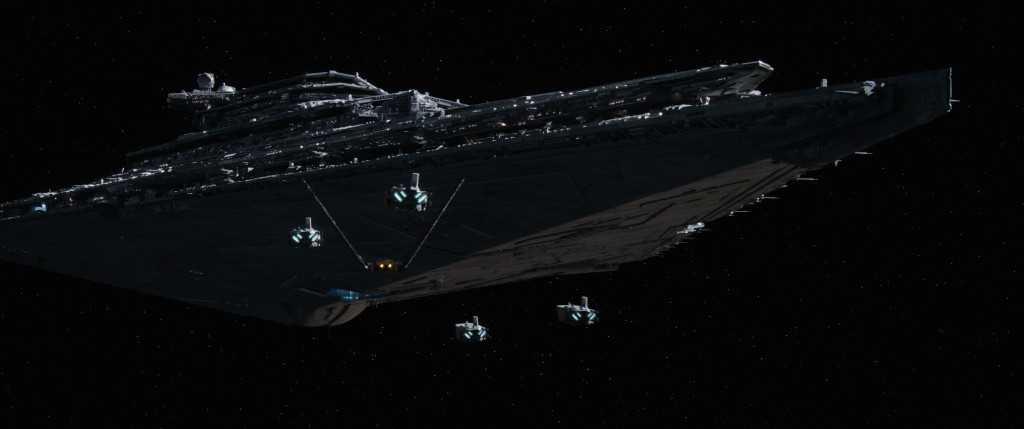 A black stormtrooper (what people are calling the Chrometrooper) marching down the corridor of what looks to be some sort of Imperial installation (maybe a Star Destroyer?), weapon in hand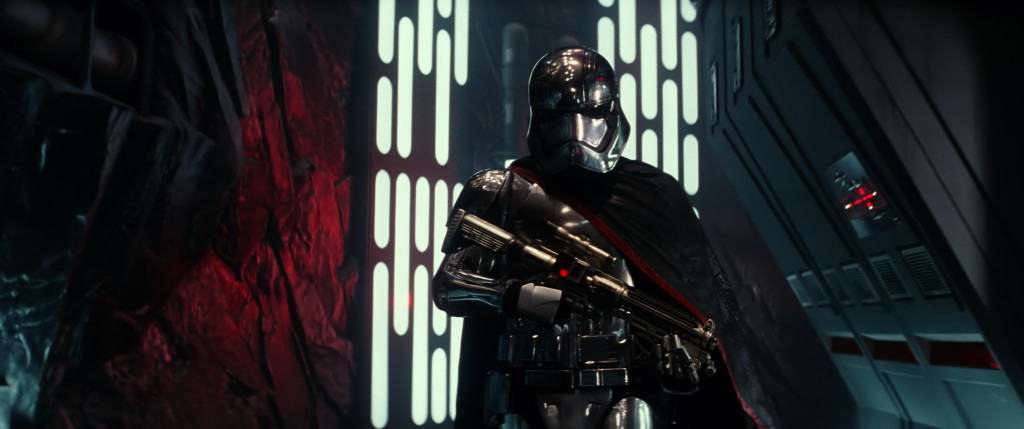 BB-8 peeking his head around the corner of the Millennium Falcon
Another shot of Rey on Jakku
Finn on the ground in obvious distress, wearing civilian clothes, staring at a hand reaching out to him, which he accepts after a few seconds of contemplation
TIE fighters (including one piloted by the Chrometrooper) chasing the Falcon into the Star Destroyer wreckage
HAN AND CHEWIE ON THE FALCON AND HAN SAYS "CHEWIE, WE'RE HOME"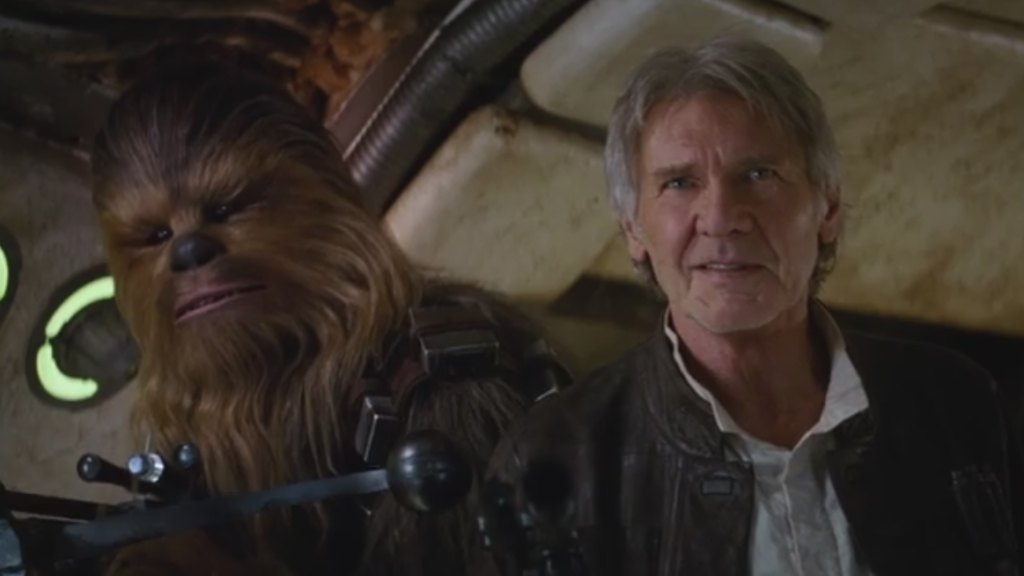 What does it all meeeaaaaaan? Stay tuned to Tosche Station Radio, as we'll be hosting some of our friends from Celebration Anaheim to discuss the teaser in all its glory later in the week.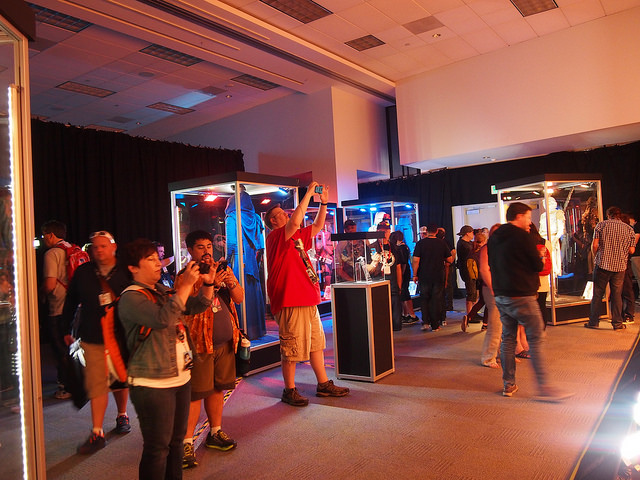 Not only did we learn a bunch of new details from the panel and the teaser, but we also got some unexpected information from The Force Awakens exhibit, which wasn't even promoted prior to the convention. Fans learned about it from signage when the first exhibitors started arriving to the Anaheim Convention Center on Wednesday and posted pictures on social media. Despite the massive lines Brian and I were lucky to make it into the exhibit on Saturday morning. The exhibit was small but mighty, and included the following:
Models of a Resistance X-wing fighter and the Millennium Falcon
Kylo Ren's costume and lightsaber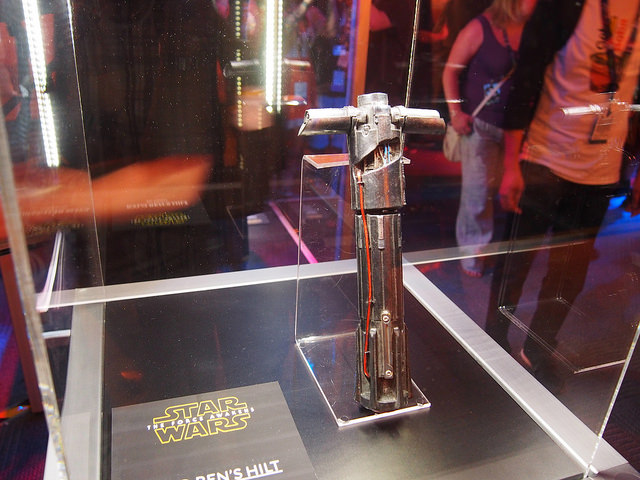 Snowtrooper and flametrooper (of the First Order) costumes
Rey's scavenger costume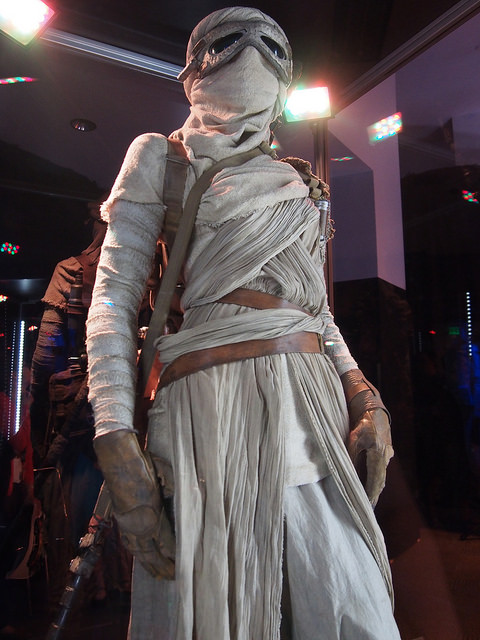 BB-8
Jakku costumes
First Order stormtrooper costumes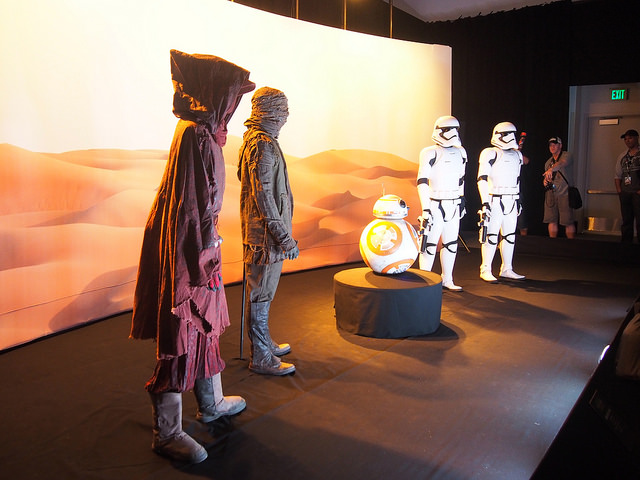 Finn's civilian costume (including concept art showing him carrying a lightsaber!)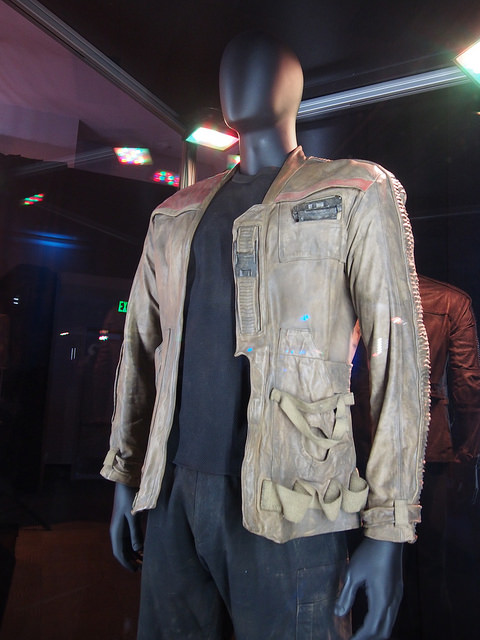 First Order? Resistance? AHHHHH! MORE NEW THINGS! Does this mean there was a New Republic that eventually fell? Does the First Order only exist in one section of the galaxy? Did the Resistance spring up there to fight them? SO MANY QUESTIONS.
Below, you can see the rest of our pictures from the exhibit. We'll also be talking about the exhibit more in depth on the podcast later this week, so keep an eye out on the feed.