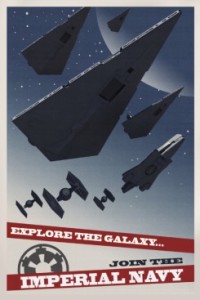 Let's start off with some propaganda artwork, shall we? Lucasfilm's Amy Beth Christenson created six posters that were released at six different websites: Empire Online, IGN, Mashable, TheForce.net, Entertainment Tonight, and Omelete.
On a release window front, Jedi News hears rumblings that Disney is set to air the Rebels introduction movie this summer. We've heard the TV series is set to debut in the fall, so perhaps this will be the lead-up for that.
Still, it would be nice to get some concrete information on anything Star Wars related. There's value in keeping things under wraps, but it's frustrating to fans to discover that important details of Rebels are being disseminated via new LEGO products.