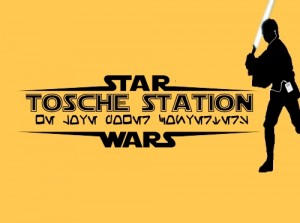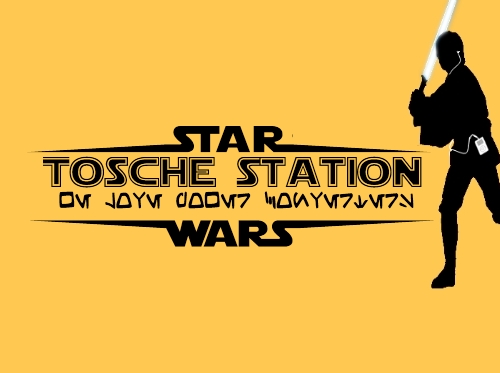 Play in new window
|
Download
On this episode of Tosche Station Radio, the hosts are back and recapping Dragon Con!
Kicking off the show, there's a bit of housekeeping. We've been away for a while, but hope you enjoyed our interview with John Jackson Miller and our episodes recorded live at Dragon Con. We conned Bria and Emily into stepping in for us one week, and now they have their own show! Be sure to check out their monthly show, Women of Odd Enthusiasms.
The hosts proceed to highlight what's New on the Blog. Bria reported on her time at Baltimore Comic Con 2013.She also reviewed Legacy #6 and The Star Wars #1. Nanci discussed a certain plot twist in Kenobi and how it made her evaluate her own assumptions. Speaking of Kenobi, we have reviews by Brian and Bria. Spoilers: we all loved it. Bria reviewed another SWEU item: Jedi Academy by Jeffrey Brown. Emily gushed about the podcast Welcome To Night Vale. As we previously mentioned, we have a ton of content from Dragon Con! Be sure to check out our live recordings of the Introduction to the Expanded Universe panel, the Star Wars Authors panel, the Blogging, Podcasting, Vidding, and Fanfiction panel, the Women and Minorities in Star Wars panel, and the Conspiring for Fun and Profit panel.
In Fixer's Flash, Nanci's been busy reading The Darwin Elevator and writing a short space western story. Brian's been reading through Razor's Edge while both hosts recover from con season.
Deak's Dirt starts with some news outside of the Star Wars fandom. J.K. Rowling is writing a Harry Potter spinoff film based on Fantastic Beasts and Where to Find Them. In a Reddit AMA, Seth Green addressed the status of Detours. According to him, it's just on hold. J.J. Abrams is setting up a post-production facility for Episode VII in Los Angeles. Episode VII rumors! They exist! Don't fall for them. Del Rey released the blurb for Honor Among Thieves by James S.A. Corey. Finally in some sad news, Expanded Universe author and publisher watchdog A.C. Crispin passed away.
In this week's Camie's Concerns, the hosts finally sit down to recap their Dragon Con experience. From panels to workshops and costume photoshoots, it was certainly one convention to remember!
Wrapping up the show, the hosts field questions in Ask Us Anything. 
Tosche Station Radio is the official podcast of Tosche-Station.net and a part of Majestic Giraffe Productions. If you like what you hear, please leave a review on the iTunes Music Store. We can also be found on Facebook and Twitter.
Nanci and Brian are the co-founders and writers of Tosche-Station.net. You can find Nanci on Twitter with the handle @Nancipants and you can find Brian with @LaneWinree.
This podcast has been brought to you in part by Her Universe and Audible.com
.