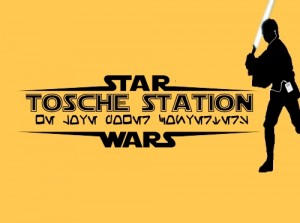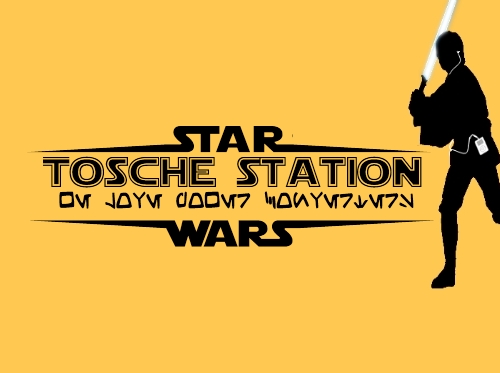 Play in new window
|
Download
On this episode of Tosche Station Radio, the hosts are joined by staff writer Bria to discuss the new Star Wars animated series: Rebels!
Kicking things off, the hosts highlight What's New On The Blog. The Waru Express started and finished Legacy of the Force, took a break from galactic apocalypses and then pulled into Fate of the Jedi, twice, and then finished. Emily reviewed Star Trek Into Darkness
In Fixer's Flash, Nanci and Brian were both at the first round of this year's Star Wars Weekends. Both the hosts also saw Star Trek Into Darkness. Nanci also got Brian to start watching Stargate SG-1. Earlier, Nanci and Brian made an appearance on our sister podcast, Wrong Opinions About Movies, to discuss Star Trek 2009. Meanwhile, Brian finished reading an advance copy of Crucible. Bria finished up the Waru Express but celebrated early by going to the Preakness Stakes.
This week's Deak's Dirt kicks off with some Expanded Universe news. Kenobi got a cover and Razor's Edge moves up to October 1. In gaming, EA teased a new Battlefront game
On the convention side, Kathleen Kennedy is going to Celebration Europe. Will we get some Sequel Trilogy news this summer? Color me jealous. In Episode VII news and rumors, Michael Kaplan will be doing costumes for Episode VII. Episode VII producer Bryan Burk says there still might be plenty of secrecy, contrary to Kathleen Kennedy's earlier statements. Outside of Star Wars and in macro fandom news, Amazon has launched a new product. Kindle Worlds: Amazon's program to sell licensed fanfiction for certain properties.
In news that will delight most of our staff and listeners, ABC has picked up SHIELD and released an awesome promo video. Finally, there's Star Wars Rebels, the new animated series from Dave Filoni, Simon Kinberg, and Greg Weisman.
Camie's Concerns covers that last bit of news. The hosts are joined by Bria to discuss the news that Star Wars is returning to animated content with a brand new show called Rebels. Set between Revenge of the Sith and A New Hope, the show will explore the Dark Times. Nanci, Brian, and Bria discuss what plots, characters, and ideas will make it into the new series.
Wrapping up the show, the hosts field questions in our Ask Us Anything segment.
Tosche Station Radio is the official podcast of Tosche-Station.net and a part of Majestic Giraffe Productions. If you like what you hear, please leave a review on the iTunes Music Store. We can also be found on Facebook and Twitter.
Nanci and Brian are the co-founders and writers of Tosche-Station.net. You can find Nanci on Twitter with the handle @Nancipants and you can find Brian with @LaneWinree.
This podcast has been brought to you in part by Her Universe and Audible.com
.