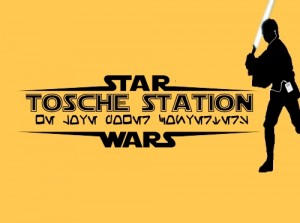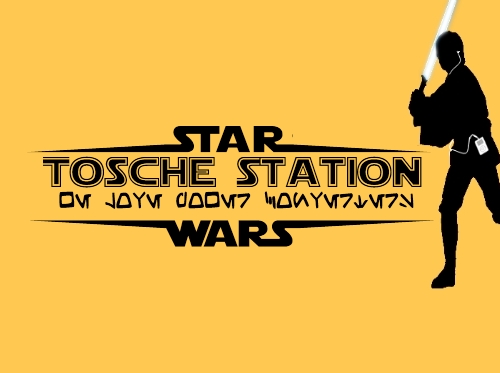 Play in new window
|
Download
On this episode of Tosche Station Rado, the hosts are joined by Aaron and Teresa of the Star Wars Bookworms podcast to chat Star Wars, the Sequel Trilogy, and the Expanded Universe!
Kicking things off, Nanci highlights what's New on the Blog. Bria, as usual, has been very busy. The Waru Express went to the Jedi Academy, finally visited its namesake, wore horrible Adumari clothes, and stopped at the Corellian Trilogy. Hello Tendra, good-bye Gaeriel. Meanwhile, the blog staff riffed off io9's piece and discussed our own list of the 12 Worst Things in the Expanded Universe.
In Fixer's Flash this week, Nanci has kept herself busy writing and both hosts got caught up with The Clone Wars just in time for the season (series?) finale. What did they think? Tune in to find out. Brian's been idly watching Adventure Time and is pretty sure that's as close as he will ever get to an acid trip. He also read the latest issue of Matt Fraction's brilliant Hawkeye comics.
Deak's Dirt starts with news of what Uncle George has been up to since retiring from Lucasfilm. Get your Indiana Jones jokes ready, because he's thinking of founding an art museum. In great news for Expanded Universe and Her Universe fans, HU has secured EU merchandising rights from Lucasfim. Sounds like there's Rogue Squadron gear coming and Mara and Jaina merchandise in the future! In television news, Tim Curry joins the cast of Clone Wars as Palpatine. Over on the video game side of things, Star Wars 1313 is in limbo. As far as Expanded Universe news goes, Crucible gets a new blurb. Finally as always, we've got the latest in Episode VII rumors. The latest rumblings (which require a shipload of salt) indicate that Episode VII will focus on Solo spawn and Disney wants three Zahn books. Finally, Carrie Fisher says she's back to play Leia. But it's not confirmed until Lucasfilm says it is!
This week on Camie's Concerns, the hosts are joined by Aaron and Teresa of the Star Wars Bookworms podcast for a grab-bag Star Wars chat. On the agenda is a general Expanded Universe discussion, thoughts on The Clone Wars, and hopes for the Sequel Trilogy films. You can find their podcast here on the web, Twitter and on iTunes.
Tosche Station Radio is the official podcast of Tosche-Station.net and a part of Majestic Giraffe Productions. If you like what you hear, please leave a review on the iTunes Music Store. We can also be found on Facebook and Twitter.
Nanci and Brian are the co-founders and writers of Tosche-Station.net. You can find Nanci on Twitter with the handle @Nancipants and you can find Brian with @LaneWinree.
This podcast has been brought to you in part by Her Universe and Audible.com
.