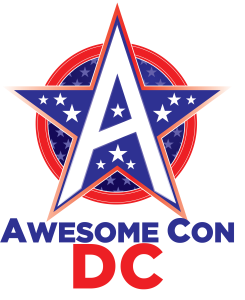 Heading to Awesome Con this weekend?  Thinking about heading to Awesome Con in Washington DC this weekend?  Be sure to catch our Staff Writer Bria (that's me!) on a Star Wars Discussion panel on Saturday from 1:30pm – 2:30pm in Room 206.  It'll be an hour chat between myself, Timothy Zahn, John 'Dak' Morton, and Rod and Leanne Hannah of Blue Milk Special about the State of the Star Wars Galaxy and pretty much everything Star Wars related.
You can also catch Zahn at a Q&A on Sunday from 10:45-11:45 and doing a reading from 1:15-2:15 with friend of the blog Janine Spendlove.  Speaking of Janine, she and Ron Garner of Silence in the Library Publishing have a busy schedule this weekend with a signing on Saturday, a panel on Sunday from 3:45-4:45 about Crowdfunding Your Book, and tons more.
You can check out the complete listing of panels (including some with Clone Wars voice actors!) over on the Awesome Con site!  Tosche Station will have a con round up next week but for in-the-moment updates, you can follow @chaosbria and @Tosche_Station on Twitter.