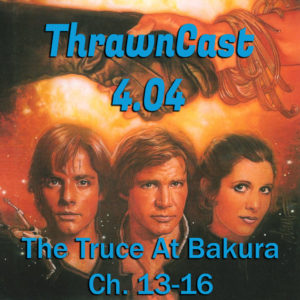 Season 4 of the ThrawnCast continues! This week Amanda, Matthew, and Sho continue their discussion of Kathy Tyers's The Truce at Bakura. We're covering chapters 13-16 this episode, so strap in and hit play!
Download
Follow us on Twitter!
Amanda: @mandatheginger
Matthew: @mrbowers
Sho: @ryorin
Tosche Station: @tosche_station
Music by Kevin MacLeod (incompetech.com)
Song: "Rynos Theme"
Licensed under Creative Commons: By Attribution 3.0 License
The ThrawnCast is a part of the Tosche Station Radio network. Be sure to subscribe to the ThrawnCast on iTunes or Google Play. You can also subscribe to the Tosche Station Radio Mega Feed in iTunes or Google Play for more great shows from our podcast network. 
This podcast was brought to you by Her Universe and your support on Patreon.