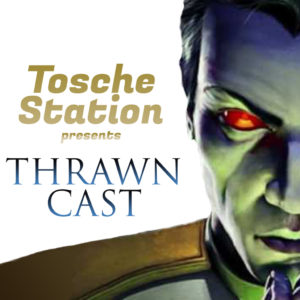 Download
Welcome to ThrawnCast, the newest show on the Tosche Station Radio network! Join Nanci, Brian, Matthew, Amanda, and Tyler on a legendary adventure as they read through Timothy Zahn's Thrawn Trilogy. Our prologue episode breaks down the goals for the podcast, introduces the hosts, and delves into some Star Wars Expanded Universe history.
The show will return in two weeks with Episode 1.1, covering Chapters 1-4 of Heir to the Empire.
ThrawnCast is a part of the Tosche Station Radio network. For more podcasts and shows, be sure to subscribe to the Tosche Station Mega Podcast Feed in the iTunes music store or Google Play! Stay tuned for dedicated ThrawnCast feeds.
This podcast was brought to you by Her Universe and your support on Patreon.