Note: I will not be surprised if Episode VII bulldozes the entire post-Return of the Jedi era Expanded Universe. But that's not the point of this post.
Lately I've been seeing people argue that Episode VII can't and shouldn't use elements from the Expanded Universe, else the story idea will be limited. I certainly understand that argument. Also, we already know that Episode VII will follow an original storyline, meaning Episodes VII, VIII, and IX won't be The Thrawn Trilogy or some other EU book. People point to that statement as evidence that the Sequel Trilogy won't use anything from the EU, because it would be too difficult to explain who these new characters are.
To that, I say bullshit.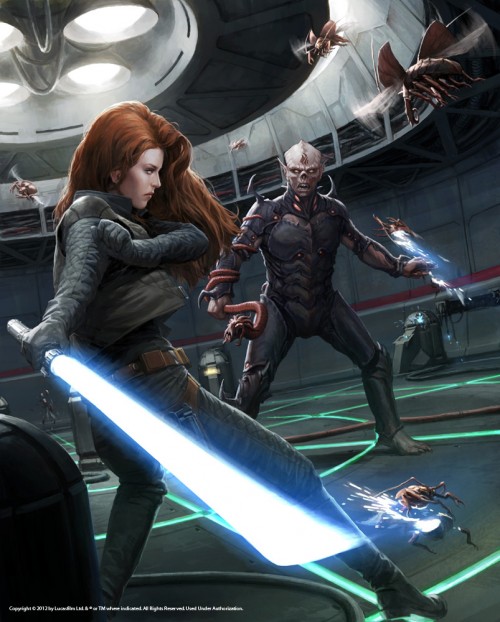 That's not to say I expect Mara Jade to show up in Episode VII. After all, Lucas has said in the past that he doesn't envision Luke being married. But for argument's sake, let's assume Luke is married in the sequels (because Lucas has been known to change his mind, and he isn't writing this story). If they take place forty or so years after the Battle of Yavin, when the characters are about the same age as the actors who portrayed them, Luke would already be married with children. What would be the point of having him married to someone other than Mara Jade? They'd have to introduce a "new" character to the movie audience anyway, so why not just use the character EU audiences know?
Now that doesn't mean they'd have to stick to her entire backstory. All we really need to know about her is that she's a Jedi and maybe that she used to serve Palpatine. She could have a throwaway line at some point about how the villain seems familiar. She and Luke could have some witty dialogue about a previous situation: "You and I remember Myrkr very differently!" And there you go. Backstory established, we can get on with the plot.
Of course, Mara's dead in the EU, so they could just stick to that and have Luke's kids have red hair or something. Have him say some sad line about their mother being so proud. The end.
You're probably rolling your eyes and saying "yes Nanci, we know you love Mara Jade." Well yes, I do, and I'd love for her to be involved or at least mentioned in the sequels. But other characters can be involved, too! Let's take the Solo kids. We've all heard the rumors that the sequels will involve either Solo or Skywalker children. The EU gave us three Solo kids, so why not just use them? That's not to say they have to stick to the story the EU gave us. Jacen and/or Anakin could still be alive and kicking butt alongside Jaina. That would be pretty awesome, right?
I fully understand not wanting the sequels to be restricted to the story the EU has given us. After all, the point is to have something new, right? But I don't understand why that automatically means nothing from the EU will be included. Even if it's just character names and traits—Jaina can fly, and Mara's sarcastic—why not use them if they're already there? It's like Coruscant. Everyone who read The Thrawn Trilogy prior to the prequels knew that the galactic capital was named Coruscant. When The Phantom Menace came out, I was overjoyed that they kept the name. Lucas could have changed it, and it would certainly have been his right to do so, but why bother?
I just don't get the argument that it would be too difficult to explain EU characters and elements. Movies do this all the time. Look at A New Hope: we get establishing information in the crawl about the Empire, Rebel Alliance, Death Star, and Princess Leia. Within ten minutes we're introduced to C-3PO and R2-D2 and get a gist of their relationship. Darth Vader appears and we know he's the bad guy just from his posture. Luke shows up and it's obvious within less than two minutes that he's a whiny farm kid (but I still love him). Obi-Wan appears, and he's very mysterious and has a history with Vader and Luke's father. We don't know what that history is yet, but it's something big.
Of course they hadn't been written yet, but A New Hope made no attempt to explain the entire backstory of the prequels, and we still knew exactly what we needed to know to enjoy the story! It's called exposition, dialogue, and acting. If you need another example, look to The Avengers. That movie took characters from several different movies and combined them into one cohesive story, and you didn't have to see any of the other movies to get what was going on.
TL; DR: If Episode VII comes out and includes Mara Jade or any other major characters from the EU, I will be very pleasantly surprised. But if Episode VII comes out and includes absolutely nothing from the EU—no references, no character names, no planets, etc.—I will be even more surprised. There's no reason why Michael Arndt and J.J. Abrams can't use elements from the EU and still not be beholden to it.