In the interest of full disclosure, former ForceCast hosts Saf and Megan are contributors here at Tosche Station by way of hosting Western Reaches, one of our network's podcasts. Because of that, I don't want to speculate on any motivations as to why things unfolded the way they did. I want to cover the timeline of events as they unfolded as this has caused a tremendous amount of confusion among fandom. Additionally, I want to use the readily available information to pinpoint where things went wrong.
Logging this timeline gets tricky, because in addition to announcing the end of the ForceCast, all of the shows social media touchpoints were deactivated. Still, this is important to write down and have a history of. The ForceCast was one of the most important fandom touchpoints in not just Star Wars fandom, but all of genre entertainment. As such, there's a need to document what led to its demise.
Ed. note 3/14: There's been (understandably, I might add) some confusion over how this post was written. This post is broken down largely into two sections, a recap of the events and a post mortem analyzing why those events happened. The first section contains posts, tweets, images, and verbiage from the actors involved. The post mortem are my thoughts. 
February 29
Out of seemingly nowhere, it was announced content manager Erik was leaving, and that hosts Megan, Saf, and Paul were also departing the ForceCast.
I'm sad to leave the @ForceCast but sadder that @Wanderlustin, @blogfullofwords and @Hermann22 are too. Proud to have shared mics with them.

— Erik Blythe (@ErikBlythe) March 1, 2016
The outgoing hosts said that the departures were due to the show changing direction under new showrunner Kyle Winner. It was also announced that Winner and Dave Bouressa would be taking over hosting duties of the weekly ForceCast show, with the stated intent of putting out content on a more regular basis.
A segment of fans express concern with the fact that the ForceCast, which had improved markedly over the last several years in diversity of on-air talent and in using their platform to promote diversity, was wholesale replacing the hosts. The biggest concern was that the two female hosts, Megan and Saf, were essentially being replaced with two men, a huge step backwards as far as representation on one of the highest profile podcasts in the Star Wars fandom is concerned.
Those concerns go largely unaddressed.
March 11
The new ForceCast debuts with Winner and Bouressa at the helm, and is met by mixed reviews. While some embrace the new format and promises of more frequent episodes, others express skepticism over the more FM radio like presentation. The biggest criticism, however, remains the regression on diversity with the hosts. It's mentioned during the show a female personality would be introduced in the following week's episode, but the sincerity of the move is questioned by listeners.
This criticism, replacing two female voices with two white men and a promise of eventually a token female personality*, is the most visible complaint of the show. Some of that critique may be construed as mean spirited, but much of it had a point: consciously dialing back the diversity on an established show is a sketchy thing to do. 
Ed. Note 3/14: It is difficult to determine how much of this criticism was actively directed towards ForceCast social media touchpoints now that they've been deactivated. Before the Facebook page went down, I could only spot one comment from a listener that expressed disappointment with the new direction. Through the evening of the eleventh, I couldn't find much in the way of direct @ mentions towards the ForceCast Twitter account either. Criticism seemed localized to small social circles conversing amongst themselves, meaning the hosts would have had to either be following those users or would have had to utilize the Twitter search feature to find said criticism. While disappointment was palpable if you looked for it, I was unable to find any examples of outright hostility towards the ForceCast touchpoints that evening. 
*Clarifying: The general sentiment among critics that this was a token presence largely has to do with the perceived lack of sincerity by the new show runners as far as diversity and representation goes. This wasn't a term that I supplied, but one that was utilized by critics. I've used it here to accurately show what Winner, Bouressa, and company were responding to.
March 12
Things begin getting strange around 2AM when host and show runner Kyle Winner tweets the following.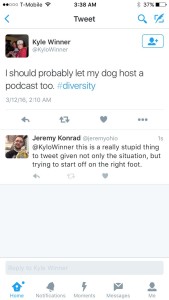 It's a thinly veiled retort towards criticisms about the new ForceCast's lack of diversity. By around 8AM Eastern the next morning, an image of that tweet (since deleted) have begun to make its way around my timeline. A number of people express annoyance and disapproval over the tweet, but apart from some tweets directed at the ForceCast Twitter account conveying that disapproval, not much seems to come of it. 
The reaction changes later that morning, when the following is posted to the ForceCast's Facebook page by Bailey, who is supposed to be the female personality* introduced in the next episode. Update: While the post was originally signed by Bailey, host Dave Bouressa says that he is actually the one who wrote it. This is particularly odd since the post is written from, presumably, Bailey's perspective and refers to Dave in third person. Update 3/13 10:31: Bouressa has admitted to writing as Bailey. More details at the bottom of the post.
*Three days later it's still not clear if Bailey was supposed to be a third host, a host of another show on the network, or just a semi-regular contributor.
This is when the wheels fall off the wagon and the whole structure bursts into flame. The reaction through Twitter is swift and fierce. Earning particular ire in the post are the remarks about the "Tumblr attitude*" displayed by those criticizing the change to the ForceCast. Worse, it states that the previous hosts were at odds with the new show runners at least in part because they shared similar sentiments. This causes some who are following along to wonder if the creative differences between the old staff and the new show-runners were more related to diversity-based philosophy rather than a regular posting schedule. Instantly this also calls into question how sincere the new show-runners are about diversity and representation on their show.
*At this point I have to editorialize a bit and explain what exactly the author of the post meant by "Tumblr attitude." Among many circles, Tumblr is regarded as a haven for so-called Social Justice advocates, or more derisively, Social Justice Warriors. I'll leave it to you to take that information and draw conclusions as you see fit.
Fallout happens almost immediately. Chris McGuffin, contributor to the ForceCast's social media and PR presence, posts in the Facebook page himself. The now deleted post (and page entirely) pleads for patience and states that he personally would not have worded the previous Facebook post in such a vitriolic manner. At 10:55AM Eastern, McGuffin tweets that he has resigned from the ForceCast.
The anger and dismay continues until the bombshell hits.
Dustin Roberts- content manager for TheForce.net, ForceCast.net, and Rebelscum.com- announces that the ForceCast would be ending for good after just one episode under the new format and hosts. One of the oldest podcasts in Star Wars and genre fandom would cease production in abrupt, tragic fashion.
What went unnoticed by most, though, was a statement from Kyle Winner a minute earlier, in which he seems to lay the blame for the ForceCast's demise at the feet of what he deems are Social Justice Warriors.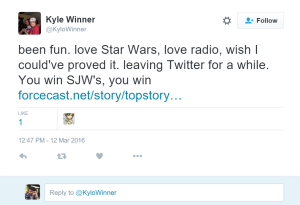 Post Mortem
This is where I try to figure out where things went wrong, so to be absolutely clear what follows are my thoughts. Everything that has preceded this point is a recap of what was said by critics and ForceCast staff. Everything from this point on is me trying to piece it all together.
It's quite difficult to parse exactly what happened over the last few weeks, and especially what happened in the last 36 hours. The speed at which the ForceCast went from rebooted to shuttered is almost unfathomable. This was a show that had weathered controversy in the past and had always been resilient enough to bounce back, learn some lessons, and move forward.
Where things seemed to go wrong this time was how the new show runners and hosts reacted to what should have been expected pushback to change. Where they could have chosen to say they were aware of the concerns and were working on it, or even ignore it all together, the new staff decided to lash out against critics. Perhaps the finishing blow, however, was the decision to lash out against the former hosts in an identical manner. This was a faux pas that seemed to stun a number of listeners. The angry, vitriol filled Facebook post was the event horizon that sent the ForceCast at lightspeed towards its demise.
There's no way to look at this unraveling as being anything short of tragic. The ForceCast had made huge strides in recent years to diversify not only its on-air talent, but the subjects and fans it reached out to. Perhaps the silver lining is the regression in diversity elicited such a strong response from fans. That kind of representation downgrade didn't sit well with a number of listeners, and they made their voices heard.
Unfortunately, there's no getting around how avoidable all of this was. Kyle Winner is 19, and as shown the last 36 hours just was not ready to become the showrunner for a fandom touchpoint of such scale and importance as the ForceCast. Dustin Roberts and TFN put Winner in a position to fail, but he himself is not blameless.
Winner's first mistake was not retaining the previous hosts and allowing them to continue on the ForceCast. His second mistake was ignoring the diversity concerns when he committed to completely rebooting the show without representation similar to what had already been on the ForceCast. While Erik Blythe leaving was abrupt, Winner had to be aware that wholesale changes regardless of diversity concerns were going to elicit a strong response.
Neither Winner nor his staff were prepared for the criticism that should have been expected. What is clear now is how grossly unprepared all of them were to deal with an audience as diverse and broad as the ForceCast's. The Facebook post is proof of that and then some. Instead of damage control or simply ignoring the criticism, Winner and his staff proceeded in the worst way imaginable by posting an incredibly tone-deaf screed that was dismissive and outright hostile to both listener concerns and the previous hosts' contributions.  
With even a fraction more thought and care, the ForceCast could still be around. Instead of that thought and care, Roberts allowed someone as unprepared and divisive as Winner to assume control. As a result, Winner and his staff quickly alienated a sizable number of listeners and turned the ForceCast into a toxic asset for TFN after only a few weeks and one episode.
Now one of the oldest fandom touchpoints is gone, and it all could have been avoided.
***
Update, 3/13 at 10:31 PM: As mentioned in the update above, the Facebook post was not written by Bailey, the upcoming female addition to the new ForceCast, but Dave Bouressa writing as Bailey.