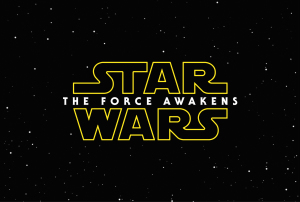 J.J. Abrams and Kathleen Kennedy have given us all an early Christmas present via Entertainment Weekly: several of Star Wars: The Force Awakens character names!
Revealed via eight retro-style trading cards, the character names are as follows (cut for spoilers): 
#11 – BB-8
#53 – Poe Dameron in his X-Wing
#67 – Kylo Ren ignites his Lightsaber
#74 – Rey on her Speeder
#76 – Finn on the run
#81 – Stormtroopers prepare for battle
#88 – X-Wings in formation
#96 – The Millennium Falcon
Of interest is the fact that both Rey's and Finn's surnames aren't listed, leading everyone to speculate if Rey's last name is, indeed, Solo. Also absent are names for characters played by Lupita Nyong'o, Gwendoline Christie, Domhnall Gleeson (he can still be  Skywalker dammit!), and Max von Sydow, not to mention Andy Serkis's mysterious narrator character. Also interesting is that we know the name of the cloaked figure in the trailer, but not who's playing him. Adam Driver, anyone? He is third on the cast list. Hmmmmmm.
Will we see more cards in the future? It's likely, but I'd wager that this is probably the last scrap of news we'll get before Celebration.
Also of note: Abrams says there's a reason for the numbering of the cards. Eeeeenteresting.