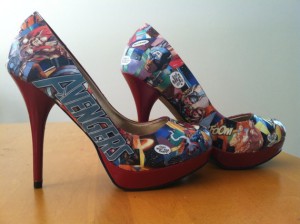 Sometimes, a girl just needs geeky shoes. Enter Etsy seller MadeInBoston and her made to order comic book heels. Hey–Star Wars has comic books that could be used for these purposes–there is even Star Wars comic book fabric now available at JoAnn's Fabric Stores (I saw aprons made from this fabric for sale at FandomFest).
But Etsy has more treasures, ladies and gentlemen. Custom-made R2D2 beanies in four different options? Not to mention the perfect onesie for your geeky baby girl, trailing her ATAT along as her pet. (Check out the rest of EngramClothing's shop for more awesome Star Wars wearables).
If you're more into crafting it yourself, though, here are free directions on how to crochet yourself a Princess Leia hat.