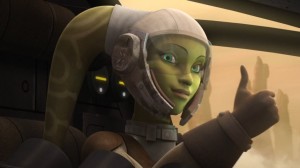 This episode of Star Wars Rebels was made for me.
After three episodes with cameos from The Clone Wars and not much for Hera to do, Rebels came back and reminded me why I love this show so much. This isn't to disparage the other characters, but I much prefer Rebels when the show is an ensemble cast rather than Ezra's story. If they are going to focus on Ezra for a few episodes, then they have to give the same amount of time to the other characters.
Just as I was grumbling about "Where's Hera?" Rebels said "don't worry; we got this" in the best possible way. Introduction of the B-wing? Check! A fantastic Mon Calamari engineer who's a tribute to Ralph McQuarrie? Check! Rousing music by Kevin Kiner in honor of James Horner? Check! Hera musing about her love of flight and being the best damn pilot in her corner of the Rebellion? Check!