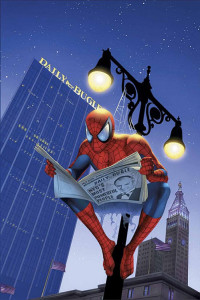 Sony and Marvel Studios have formed a Spidey-based partnership, according to Marvel's official site:
Under the deal, the new Spider-Man will first appear in a Marvel film from Marvel's Cinematic Universe (MCU). Sony Pictures will thereafter release the next installment of its $4 billion Spider-Man franchise, on July 28, 2017, in a film that will be co-produced by Kevin Feige and his expert team at Marvel and Amy Pascal, who oversaw the franchise launch for the studio 13 years ago. Together, they will collaborate on a new creative direction for the web slinger. Sony Pictures will continue to finance, distribute, own and have final creative control of the Spider-Man films.
Notably, the release refers to the character as "Spider-Man" rather than "Peter Parker," with one exception:
"Sony Pictures and Marvel Studios share a love for the characters in the Spider-Man universe and have a long, successful history of working together. This new level of collaboration is the perfect way to take Peter Parker's story into the future," added Doug Belgrad, president, Sony Pictures Entertainment Motion Picture Group.
While Belgrad doesn't explicitly state that Peter and Spidey are one-and-the-same in this case, it is implied. If they are indeed the same, it will be the second film reboot of Peter Parker as Spider-Man in less than five years and the third film version of the character in less than fifteen. I'd find a film starring Mile Morales, the current Spider-Man in Marvel's Ultimate comics universe, to be a breath of fresh air, but if don't get to have that, perhaps they'll at least get more creative with Spidey's casting this time and choose an actor who isn't white.
In addition to the news that they and Sony will be working together on Spider-Man, Marvel has pushed back the release dates of four previously announced films, possibly to give the new Spider-Man film some space. Thor: Ragnarok, previously scheduled for July 2017, will now be released on what had previously been Black Panther's release date of November 3, 2017, Black Panther will now come out on Captain Marvel's old release date of July 6, 2018, Captain Marvel is getting Inhumans' previous date of November 2, 2018, and Inhumans will now be released on July 12, 2019. You can read Marvel's full announcement on the moved release dates here.