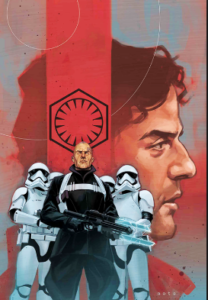 I was lucky enough to sit down and chat with Charles Soule for a few minutes at New York Comic Con. Since we last talked at Baltimore Comic Con last year, he's finished his run on Lando, written the Obi-Wan and Anakin series, and is currently writing the ongoing Poe Dameron series for Marvel Comics. (And that's in addition to all the other books he writes for Marvel and all his creator owned work.) Needless, to say, he's stayed busy.
—
Bria for Tosche Station: Thank you again for talking with me this morning and congratulations on conquering the world of Star Wars Comics.
Charles Soule: It has been an incredibly ride. Doing a series set in Prequel time, doing a series set in Original series time, and new era time? I can't believe it. I still can't believe it.
TS: I think you might actually be the first person to have written in all three eras in the new canon.
CS: I guess the dream's achieved. I can retire now. It's all happened.
TS: I think it was at NYCC last year that the Obi-Wan and Anakin book was announced which I loved by the way. What was it like getting to delve into another era and its characters since before that you'd been working on Lando?
CS: The thing that I really liked about it was that not only was it a Prequel Era story which is sort of unexplored to begin with but it was in the unexplored—no one has written anything between Episode I and Episode II as far as I know other than this.
TS: One or two Legends books but not much.
CS: So it was very cool to be able to look at a time when the Jedi were… they weren't ascended but they were certainly powerful and their infrastructure was in place and all that. Palpatine was active but hadn't yet revealed himself as Sidious. The relationship with Anakin was really developing. There were all these really potent, dramatic things I could do with the Obi-Wan series that aren't available in other parts of the timeline so I was really thrilled to get a chance to take a crack at it. Continue reading →