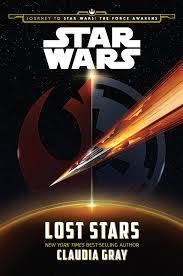 Lost Stars, the young adult entry in the Journey to the Force Awakens, reads like fanfic.
For many people, the phrases "young adult" and "fanfic" give Lost Stars two strikes before even turning to the first page. There's a big stigma out there against YA fiction, because, and let's not be blunt here, teenage girls read it. That's not to say YA is all great — it can be melodramatic and poorly written — but the same is true of adult books, is it not?
Then there's the fanfic comparison. Many people like to criticize Expanded Universe books they dislike by calling them "glorified fanfiction." To me, though, fanfic is not an insult. Fanfic represents a land of opportunities in Star Wars literature. You can write about whoever you want, doing whatever you want, whenever you want. You can stick to canon or split into an alternate timeline. There are no rules. So you could, for example, create your own original characters and have them live through key events of the Galactic Civil War.
Lost Stars takes that common fanfic premise to the extreme, and that's a good thing. Continue reading →