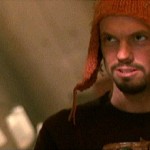 It made the rounds this week that Fox started sending cease and desist orders to Etsy sellers who were producing their own version of the iconic 'Jayne hat' from Joss Whedon's cult TV show Firefly. Both Ripple Junction, who now owns the license to make the hats and ThinkGeek, who sells them, denied any involvement in sending the C&D orders. ThinkGeek posted a blog entry attesting to as much.
While there's not much that can be done for intrepid Firefly fans who want to sell their own versions of Jayne's hat, ThinkGeek just announced that they have heard the outcry from fans and therefore will donate all proceeds from the sale of the official Jayne hat on sale at their website to Can't Stop the Serenity, an organization that hosts charity screenings of Serenity in order to help support Equality Now, a worldwide charity that works to further the cause of human rights and end violence and discrimination against women around the world.
Four for you, ThinkGeek. You go, ThinkGeek.