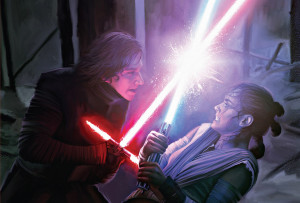 Perhaps better than any other Star Wars film so far, the lightsaber duels in The Force Awakens tell a story and establish who the characters are in that moment. Only the duel between Luke and Vader in Return of the Jedi even comes close to telling this sort of tale via clashing blades. At first glance, the duel between first Kylo Ren and Finn and then Kylo Ren and Rey is brutal and it doesn't get any less brutal after repeat viewings. Gone is the elegance of the Prequel Trilogy and with good reason. Kylo Ren doesn't have the benefit of training with a Jedi Order who has perfected the weapon over millennia and Finn and Rey have never even held a lightsaber before that day. Every swing of a saber has meaning and you don't need to have seen a single other frame of the film to get what sort of people these three characters are.
Finn has the least training with these sorts of weapons and it shows. He gets in a few good blows but it comes off as more beginner's luck combined with a Kylo who is far from being at his best. (More on that last part later.) With any sort of sword fighting, a raw beginning can sometimes have more luck than someone who has trained, as they do not react in a way that is expected. In other words, someone who has even basic training will be more likely to attack and block in a way that utilizes more standard stances and responses that will be easier for someone else with even more training to counter. Unfortunately, it's just not quite enough to help Finn last more than a few minutes despite his determination to help his friend.
Kylo Ren's responding actions speak louder than any words could. He doesn't take Finn as a serious threat. A traitor? Sure but he's clearly familiar enough with Hux's training program to know that there's no way FN-2187 knows enough to be more than a nuisance and it shows. He toys with Finn especially at the start, dodging some of Finn's more wild swings with a distinctive ease and even knocking him to the ground and turning away instead of pressing his advantage and ending it. Turning your back to an enemy is an insult. It's not until Finn lands a blow that actually hurts him that Kylo steps up his game and decides to end the fight now. This time, he's not content with disarming Finn and follows it up with an injury that ensures the former stormtrooper will stay down.