Star Wars Weekends fans, rejoice! The ever-popular Star Wars event that takes place every May-June at Disney's Hollywood Studios is back and is now boasted a fifth weekend. Additionally, James Arnold Taylor is back as the celebrity host.
As the Rebel Alliance continues its fight for freedom and democracy in the Star Wars galaxy, the phantom puppetmaster himself, Darth Sidious (aka Emperor Palpatine), has issued a new galactic decree about Star Wars Weekends 2014 at Disney's Hollywood Studios.

While some of his blue-hued holographic transmission was garbled, the Emperor has ordered his Galactic Empire to create a demonstration of force and power that can be seen high above Disney's Hollywood Studios during Star Wars Weekends 2014. This has caused much talk in the galaxy that a gala fireworks show featuringStar Wars music will be presented each evening this year.

When consulted, several protocol droids further translated the Emperor's message. These translations reinforced the conclusions that there will be a new evening experience for Star Wars Weekends guests on Hollywood Blvd. in the Walt Disney World Resort theme park.

However, that's not the end of this story.

When the Rebel Alliance secretly learned of the Emperor's plans from a hidden message decoded from an astromech droid, they decided to extend the galactic gala one more weekend in 2014.

In order to convince more guests to join the Rebellion, a 5th weekend is now being added to Star WarsWeekends 2014. The new event dates are every Friday, Saturday and Sunday from May 16-June 15, 2014. The theme for this year's event is, appropriately, "Join the Rebellion."
Disney also released a promotional poster for this year's event.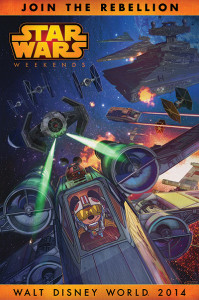 It probably goes without saying that both Nanci and I will be in attendance.