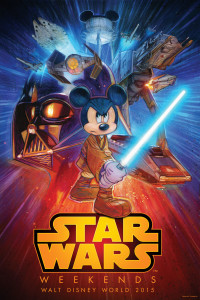 The last few days of Star Wars Weekends are always filled with an odd combination of melancholy and relief. Melancholy because Star Wars is about to be ripped out of your life again; relief because that means you get your weekends back to do adult things. Not only that, but it's hot. Really, really, really hot. I always tell people to not let the heat and humidity get in the way of attending Star Wars Weekends, and I mean that with all my heart. But I still can't over-emphasize how darn hot it feels after five straight weekends spent at a theme park where nearly every event takes place outside. Star Wars Weekends is so much better with an indoor theatre and I hope and pray we get a return to air conditioning next year — if there even is a next year with all the rumored construction coming up at Hollywood Studios.
Despite the heat and general malaise, the last two Star Wars Weekends were tons of fun, and included a first-time, amazing guest. Stories and pictures under the cut!
Weekend IV guests included Ray Park, Jeremy Bulloch, and Ashley Eckstein. This was a real treat, as Ashley as typically been the host of the Clone Wars/Rebels voice actor shows at Star Wars Weekends. This week, however, she was the featured guest, and the response from the crowds was absolutely amazing. There's no doubt that Star Wars Weekends guests love Ashley Eckstein, Ahsoka Tano, and Her Universe.
I especially loved this picture they showed of Ashley at Celebration V. This was the first time I had the pleasure of meeting Ashley, and I made my first Her Universe purchases at this very booth (the Padme shirt and manga hoodie, if you're interested).
Ray Park and Jeremy Bulloch are perennial Star Wars Weekends guests, and they know how to work a crowd. Ray's "Visit to the Maul" show highlights his expertise in martial arts, and he has no shame showing off his skills during the "Stars of the Saga" show, either. Jeremy is a class act, always willing to play the straight man to James Arnold Taylor and his fellow guests — but he's not afraid to do a conga line off the stage or participate in dramatic Star Wars Shakespeare readings, either. The two of them even had tea!
My friend Erin and I had a very important task to complete this weekend. A few years ago, she bought the Asajj Ventress hoodie at Star Wars Weekends and got her picture taken with the Ventress face character. I got the Ventress hoodie for Christmas this year, and wanted to recreate the photo. Ventress was pleased by our choice of wardrobe, taught us correct dark side posture, and then told us to "go make all the boys stare at you." It was awesome.
Weekend V, the final weekend, featured Taylor Gray, Ray Park (for a second weekend), Peter Mayhew, and Frank Oz. We didn't spend much time at the park this weekend, both due to general fatigue, adulting, and the heat. My God, the heat! (Five points if you know which sitcom star I'm quoting.)
This was Taylor Gray's second time at Star Wars Weekends, and he's really adorable and so excited to be at Disney and part of the Star Wars family.
Ray and Peter did a great "Stars of the Saga" show, and of course James asked Peter a bit about The Force Awakens. They even showed the second teaser; the cheers for "Chewie, we're home" were insane and almost made me cry — again!
Weekend V also featured first-time guest Frank Oz. We saw his show "A Conversation With Frank Oz" on Sunday, and it was an absolute delight. He had great insights on storytelling, directing, and acting. Plus he had great chemistry with James Arnold Taylor. (James noted that Frank came to see his one-man show the previous evening and how nerve-wracking it was to perform for one of his idols.)
Going back in time to Saturday, we celebrated my friend Cheryl's birthday at the Jedi Mickey dinner. It was FANTASTIC. I went last year, and the food is abundant and delicious, and the characters are a delight. I will definitely be going back next year!
We ended our weekend, and Star Wars Weekends as a whole, with "Obi-Wan and Beyond", James Arnold Taylor's one-man show. This is a fantastic show and definitely not to be missed. I've seen it at previous weekends, but James mixes it up every year. And since this was the last show of the event, he even came into the audience a few times. I'm so glad that James returned as host this year and hope he'll be back again next year!
So there you have it. Five whole weekends of Disney and Star Wars fun. It's a relief to have my weekends free again, but I'm sure in a few months, once the temperature dies down and The Force Awakens fervor rises to a fever pitch, I'll be dying for it to come back. The best part about Star Wars Weekends is you can always come back, and if you're lucky you can even live 10 minutes away and go whenever you want.
Until next time, May the Force be with You!