New York Comic Con was this weekend and among the events was the first Star Wars: Rebels press panel of sorts. While we don't have a release date or any animation from the show yet, new information and artwork was revealed. Most importantly, we learned that Rebels is set to take place fourteen years after Revenge of the Sith and not the eight years that was originally rumored.
Dave Filoni also checked in with a video and made it clear that a large number of The Clone Wars creative crew will be returning for Rebels.
He also introduced the series' new villain tasked to hunt down the pockets of Jedi that survived Order 66, the Inquisitor.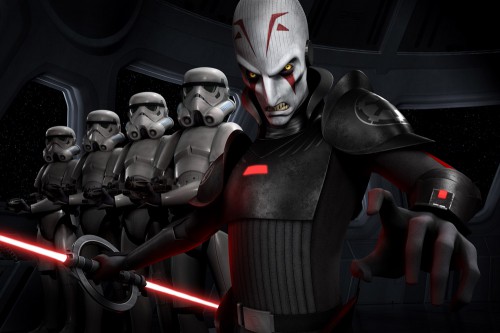 There was also a look at some concept artwork, such as this great look at the interior of a TIE Fighter.
How do you get into a TIE Fighter? Hatch will be on top! #StarWars #StarWarsRebels #NYCC pic.twitter.com/vG1hd7Oyvf

— Bonnie Burton (@bonniegrrl) October 12, 2013
One sight you may want to keep an eye on moving forward is SienarFleetSystems.com. That certainly is some pretty propaganda material.
Fore more details and artwork, be sure to head over to Club Jade to check out Dunc's Storify compiling tweets from the event.