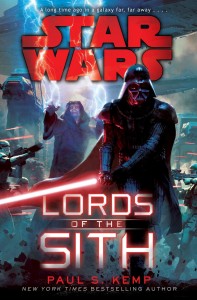 Bryan Young at Big Shiny Robot has the scoop: Paul S. Kemp's Lords of the Sith will feature the first LGBT character of the new story group era.
Moff Mors is an Imperial who has made some very serious mistakes but she is an incredibly capable leader and spends much of the book working hard to prevent absolute failure. She also happens to be a lesbian.
Awesome. What's more, Bryan sat down with Del Rey's Editor-at-Large Shelly Shapiro to talk diversity in Star Wars and Star Wars literature in a recent Full of Sith episode.
This is certainly the first character in canon," Shapiro says. "But there was a gay Mandalorian couple, so it's not brand new. It's not something I really think about, it just makes sense. There's a lot of diversity–there should be diversity in "Star Wars."
Emphasis added. Well put, Ms. Shapiro.
Be sure to head to the Big Shiny Robot link above for more information.