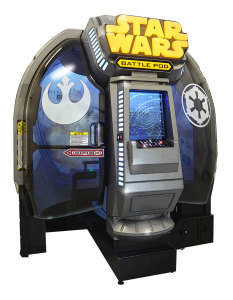 The first Star Wars-related announcement has come in from the New York Comic Con festivities and it's certainly not something we expected. Bandai Namco has unveiled Star Wars: Battle Pod, an arcade game in which the player sits in a simulated cockpit and pilots various kinds of vehicles on missions. From the official site:
The game includes five stages that recreate the fiercest battle scenes from the original Star Wars trilogy. Loaded with features and unique gameplay elements, players can experience the impact of the explosions and destruction that will leave them with a sense of actually piloting and taking part in action-packed scenes from the films. Enabling the player to be surrounded by gameplay images and experiences on the dome screen, players will truly take command of the vehicles that appear in the films such as X-wings, snowspeeders, speederbikes, the Millennium Falcon and TIE Advanced.
The game will be available to play at participating arcades in the United States starting January 2015, but fans in New York City have an opportunity to play it early:
Players experienced their first hands-on gameplay of Star Wars: Battle Pod this week in New York City at an announcement event at Marquee NY. The game will continue to be on display at Dave and Buster's in the Times Square location through the New York Comic-Con.
Bandai Namco does not seem to have information about the game up on its site as of yet but will hopefully have some soon.
@BlueJaigEyes, of The Wookiee Gunner, took video of the game trailer shown at the unveiling, which includes footage of what we hope is the Death Star Trench Run:
She also livetweeted the event, including pictures of the interior of the machines. See some of her tweets after the jump.
Star Wars: Battle Pod unveiling! #StarWars #BandaiNamco pic.twitter.com/SyHMy9aMp6

— Johnamarie Macias (@BlueJaigEyes) October 8, 2014
The gaming is away for Star Wars: Battle Pod! #StarWars #BandaiNamco pic.twitter.com/50iY5ls82d

— Johnamarie Macias (@BlueJaigEyes) October 8, 2014
Played the Yavin level! It definitely guides you along, but it's fun and entertaining! #StarWars #BandaiNamco #BattlePod

— Johnamarie Macias (@BlueJaigEyes) October 8, 2014
Seat of the pod. #StarWars #BandaiNamco #BattlePod pic.twitter.com/vdy60vKPo0

— Johnamarie Macias (@BlueJaigEyes) October 8, 2014
The controls. #StarWars #BandaiNamco #BattlePod pic.twitter.com/1E03PMmEje

— Johnamarie Macias (@BlueJaigEyes) October 8, 2014