The lovely human beings over at The Brothers Brick have posted an image from either the London or Nuremburg Toy Fair (which one isn't made clear in the post), giving us a look at some of the Lego Star Wars sets we can expect this summer. Hop behind the break for a look (as well as my — ahem — expert analysis).
All right, so here's the picture. Take note of the "no photography" signs. Well done, all.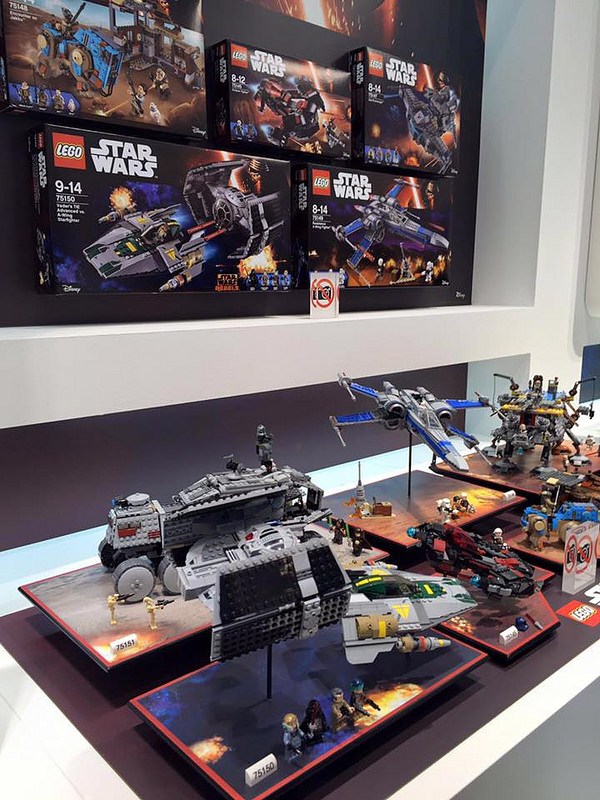 So, what've we got here? Confirming some earlier reports, set 75148 appears to be Encounter on Jakku, which looks to include a small segment of Niima Outpost as well as a Luggabeast. The minifigs included appear to be Rey, BB-8, Unkar Plutt, and Teedo. I imagine most people will want this set for the Unkar Plutt minifig and the Luggabeast; both Rey and BB-8 have been featured in several sets already, and the Niima Outpost build looks to be almost an afterthought.
More exciting is the latest set from Rebels, a rare two-vehicle set including Darth Vader's Advanced TIE, and a Phoenix Squadron A-Wing (set number 75150). Minifigs appear to be (predictably) Vader and an A-Wing pilot, plus a couple Rebel soldiers (possibly Commander Sato?). It's unclear whether this will be the same Vader minifig we got last year in the Death Star Final Duel set, or a new, stylized Rebels version. I've been wanting a Phoenix Squadron A-Wing since "Siege of Lothal" aired (fun fact: my first Star Wars Lego set was the A-Wing from a couple waves ago), and getting Vader's TIE in the bargain is just gravy. Lego hasn't put out a two-vehicle set in a while; I'm curious what prompted this experiment.
Behind that on the table is set 75151, which appears to be a reissue of the Clone Turbo Tank, previously released as a 1,000+ piece set back in 2010. It's hard to tell just from the picture, but it looks like this version might be a bit smaller than the old one, which is disappointing. It does appear to include a decent selection of minfigs, at least, including two Jedi, at least one clone, and another pair of the ubiquitous Battle Droids. This set doesn't thrill me; the Clone Turbo Tank isn't exactly an inspired design to begin with, and as this set appears to be a downgrade from the old one, this won't be leaping to the top of my list.
We also have a pair of sets — can't make out the set numbers — which sources tell me are based on ships from the forthcoming Lego Star Wars TV show. I couldn't be less interested in said show, but the sets here look interesting enough. I tend not to spring for the sets based on ships I don't have some small measure of interest in or attachment to, though, so these will probably be passes.
What won't be passes are the last two sets. First, we have another X-Wing from The Force Awakens, this one simply called the Resistance X-Wing Fighter (as opposed to last year's Poe's X-Wing set). Despite the generic name, this set does seem to also include a Poe Dameron minifig, as well as a First Order Flametrooper, Lor San Tekka, and — I'm guessing, though I can't see for sure — another BB-8. The minifig selection (and the small bit of included scenery) indicate this is meant to represent the X-Wing Poe flies to Jakku in, to meet with Lor San Tekka (and which is subsequently destroyed). The Lor San Tekka minifig is nice, but I honestly would have rather had a Snap Wexley or Jess Pava figure (there is a Snap Wexley figure available, but at the moment it's only included in the Microfighter X-Wing). Nitpicks aside, it's great to have another X-Wing set, and this will look great next to Poe's orange and black fighter (not to mention the OT version and the UCS X-Wing, should you have those as well).
Last but not least is a set I was dearly hoping we would get, but didn't imagine we actually would: Rex's AT-TE, from the Rebels episode "The Lost Commanders." It's hard to get a good look at it, but it seems to include a nice selection of minifigs, and the bits dangling off look true to the episode version. My only questions are: will the Phantom set fit up top there, and: where's the big bongo??
So, that's a peek at what's coming from Lego this summer! There should be some other sets included in the summer wave as well (maybe that UCS Hoth set we've been waiting on??), plus more sets in the fall to tie in with Rogue One. Lots of good stuff coming our way!
What looks interesting to you? What sets haven't been announced that you'd love to see? Let us know in the comments below!