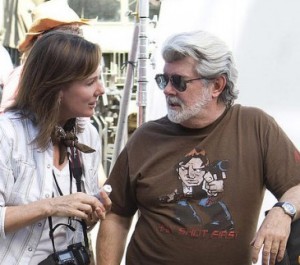 Of all the various Episode VII and Star Wars rumors that emerged over the weekend (and you can head over to Club Jade for excellent coverage on that front), only one seemed to have legs and looked plausible. According to the LA Times, several screenwriters have been in contact with George Lucas and Kathleen Kennedy in order to pitch their own ideas for the new live-action films.
In the months before Disney announced it would acquire "Star Wars" studio Lucasfilm, several different screenwriters paid visits to Lucasfilm's Northern California compound to pitch George Lucas and his co-chair Kathleen Kennedy their ideas for the new live-action installment, the series' seventh, according to a person familiar with the talks who requested anonymity because he was not authorized to talk about them.
Now you might be wondering, why is Lucasfilm doing this? Didn't Lucas give Disney his story treatments as part of the sale agreement? It could be that the treatments aren't concrete rules for what the films will be and that whoever is brought in as director and screenwriter will have some say over where the new trilogy goes. Or it could be as simple as these meetings being an audition of sorts. They're not going to divulge the content of the treatments, so right now they just want to see if there's a screenwriter that will mesh with what Lucasfilm has in mind.
Or maybe they're turning the bulk of the writing over to the screenwriter.
It's too soon to tell exactly what the motivations are, but of all the rumors lately, these meetings are definitely in the plausible-to-likely category.
(via)