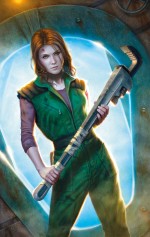 It's that time again – Serenity #4 is out today, and the continuing tribulations of our heroes get ever worse.
My complaints about the art continue–I won't repeat them again.
As far as the writing goes, this is not as good as previous issues–it's transitional–our characters are having to get from here to there, and that's understandable.  It's not particularly engaging, though there are certainly a couple of moments that will make you flip back a page to make sure that you did just see what you saw.
That said–I'm almost certain that you're going to need this issue to get the next one.  This one has left readers on one hell of a cliff-hanger–a couple, actually–so even if this one issue isn't as fantastic as the others, you're going to want to pick it up anyway.