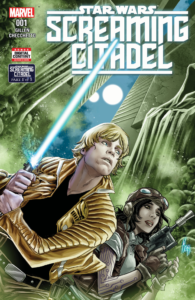 The Screaming Citadel crossover kicks off today and I'll just be referring to it as the issue in which everything is delightful and wonderful and nothing hurts. Another potential title is 'Everything I never knew I wanted until just now' which would be equally accurate.
The premise is fairly simple. Aphra's got the artifact with a Force user's consciousness from the Ordu Aspectu and she needs Luke's help to convince the Queen of Ktath'atn to activate it. The way Aphra phrases it, it's a win for everyone. Luke gets a Jedi instructor and Aphra gets a front row seat to history. Of course, it's not going to be as easy as that and if you think Aphra's in it purely for the academic knowledge…
What makes this book so darn fun is the interaction between Aphra and Luke. She's a woman who's been around the galaxy a few times and sees things in shades of grey while he's still far closer to being the fluffy-haired farmboy than anything close to a Jedi Knight yet. This isn't a combination that we got to see much of during Vader Down but it's possibly one of the most delightful character combinations we've gotten in the comics thus far. I sincerely hope that Luke comparing Aphra to Han becomes a running gag.
There's nothing about this issue that I don't love and honestly, it's such peak Gillen that I'm almost surprised that McKelvie's not drawing it. (Although there's something quite pretty about Checchetto's art that I'm a fan of and that definitely works here.) To borrow Gillen's own words, "it all goes None More Goth" and Aphra and Luke both have a chance to get dressed up all fancy (especially Luke.) Related: I would like to have Aphra's jacket collection because it appears to be fantastic.
Screaming Citadel starts out strong and grabs the interest from the start. Even if you've fallen behind one either Doctor Aphra or Star Wars, I absolutely recommend picking up this crossover because it looks like it's going to be a fun and wild ride.
Screaming Citadel #1: Kieron Gillen/Writer, Marco Checchetto/Art, Andres Mossa/Colors, Joe Caramagna/Letterer, Kieron Gillen & Jason Aaron/Story, Heather Antos/Assistant Editor, Jordan D. White/Editor