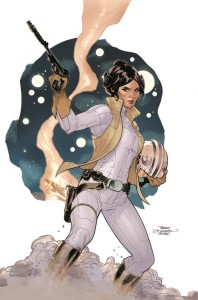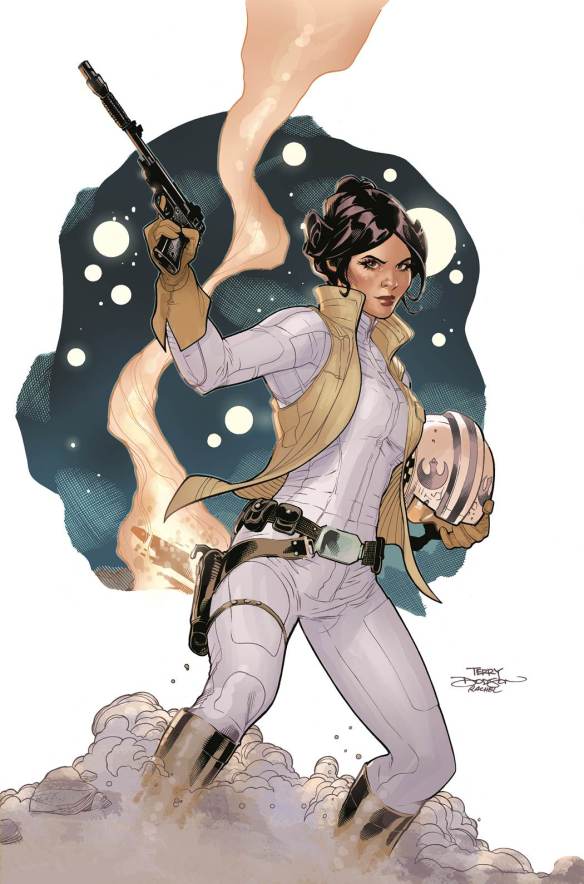 Remember back in August when I wrote about what I hoped for with a Mark Waid Leia comic? Yeah, he nailed it. I won't beat around the bush here. I loved this issue. Go to your comic store right now and pick up Princess Leia #1 by Mark Waid with art by Terry Dodson, inks by Rachel Dodson, and colors by Jordie Bellaire. Need another reason why? Well read on for a mostly spoiler-free review.
The book picks up immediately after the Battle of Yavin with the medal ceremony and Leia giving a very brief speech commemorating the losses of all those who gave their lives fighting the Empire and especially Alderaan. There is no time for sorrows though as the Rebels must immediately dismantle the base and flee. Leia, however, wants to embark on a mission of her own: to find and protect all the remaining Alderaanians in the galaxy… with or without the Alliance's approval.
What's more important to me than anything when it comes to Leia is her characterization and Mark Waid absolutely gets her. He takes the strong resilient leader and mixes her perfectly with the princess who has to be a rock for what's left of her people and push down her sorrows for another day. It's a combination that very few writers have been able to nail perfectly. She's also a woman who needs to be useful in the best way she can and not be limited to being a figurehead who gives speeches. Like Waid said in an interview, she's very direct. I could go on for days about how perfectly he writes her but I will save that for another issue and so this won't become a 10k word review.
Waid doesn't slack in the rest of the character department either. His Ackbar is awesomely humorous and there's a very sweet side to Luke in his brief appearance. The big addition to the galaxy though is via Evaan. She's a pilot from Alderaan who was also mentored at one point by Queen Breha (that name's officially back in canon now!) and she's off put by Leia's seemingly cold reaction to the planet's destruction. We've only known her for a single issue and already there's a depth to her character that I truly appreciate. She'll serve as a great foil to Leia in these coming issues.
On the art side, I love how the Dodsons are drawing and inking this book. They've got a great style that works really well here. Terry Dodson draws a great Leia and you can see the immediate change in her body language the very instant she goes into royal-mode and then again when she relaxes amongst friends. Kudos also go to the Dodsons and Bellaire for populating the Temple ceremony with more than just white males. Diversity is always a welcome change.
Oh. And that last line? Perfection. (No, I won't spoil it for you; go buy the comic.)
Princess Leia #1 gets a 5/5 from me along with a strong recommendation that everyone read it right now.