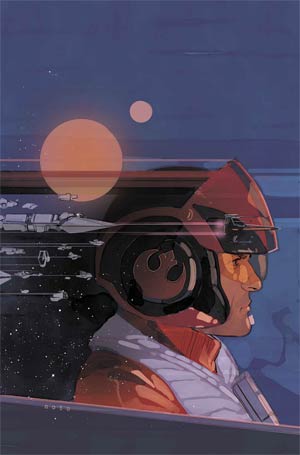 Okay can we please start by discussing how drop dead gorgeous this cover is? Phil Noto is rarely anything but excellent but this is another level. I want this framed on my wall.
But about the actual content of the issue… Oh Terex. You're certainly not going to win First Order Officer of the year and frankly, I'm increasingly concerned about your contining existence. (It's shocking that Phasma hasn't broken his spine already.) That said, Charles Soule is presenting us with an interesting comparison with our two sides. Leia formed the Resistance because the New Republic was blind to the threat and now Terex is using his own private army to strike against the Resistance because the First Order can't. It's a thought-provoking contrast especially since the First Order is so focused on….uhhh…order. It's surprising that they'd bring Terex in at all and now that he's in and pushing back so strongly against Phasma… how long will he stay a part of the First Order especially if he loses to Poe?
We still don't know who the spy is for sure and it's driving me insane! While Poe comes to the same conclusion that I did several issues ago, I have a feeling that there's going to be a twist. This is comics: there's always a twist and I can't wait to read what it is.
Sidebar: If someone doesn't pull together a Lord-General of the Rancs of Kaddak cotsume soon, I'm going to be very disappointed.
Poe Dameron #11: Charles Soule/Writer, Phil Noto/Artist, Joe Caramagna/Letterer, Jordan White/Editor, Heather Antos/Assistant Editor