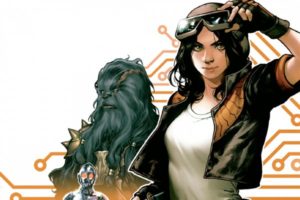 It's finally here! Dr. Aphra #1! Okay, so we've only been waiting for a month and a half but it's felt like forever. No longer in Darth Vader's service, Aphra, her two murderdroids, and Black Krrsantan are back to their usual thing: finding and selling ancient artifacts for a profit with a side of violence. Except there's one problem: her doctorate's been revoked and now she can't sells her loot for the usual high prices.
Dr. Aphra #1 is our first real chance (outside of her introduction in Darth Vader #3) to really get to see Aphra going after what Aphra wants. I love that this book immediately reminds us that she's not one of those rogues with a heart of gold. She straight up kills a man and isn't particularly torn up about it. (Hey, he had a thing that she wanted!) I'm glad that it's Kieron Gillen still at the writing helm because that means we're getting the definitive Aphra and Aphra backstory just as he always imagined her. I don't think I'd trust anyone else to write her quite yet even though we still run the risk of her, you know, dying. Because it's Gillen.
On the art front, Kev Walker takes over for this new book but we do get a taste of Salvador Larroca via the short story at the end. Adding a little something extra has been Marvel's MO for first issues. It's a nice nod to their previous collaboration and while I dig Larroca's work, it's nice to get a distinctly different style for this book. Thus far, I'm definitely a fan of Walker's more comic booky style.
There weren't a ton of surprises in this first issue. They mostly cover what we've already learned in interviews and solicits but it does very nicely introduce Team Aphra to new readers. In other words, it's very much a first issue but I'm honestly so glad to be reading about her again that it could've been 22 pages of nothing but Aphra ordering drinks in a cantina and I would've been content. That said, I can't emphasize enough how excited I am to see where this book goes. After all, we can't have a Dr. Aphra book if Aphra doesn't have a doctorate… right?
In case it wasn't clear yet… yeah.  Dr. Aphra #1 gets my whole hearted endorsement.  Go snag yourself a copy.
Dr. Aphra #1: Kieron Gillen/Writer, Kev Walker/Artist, Antonio Fabela/Colors, Joe Caramagna/Letterer, Editor/Jordan White, Assistant Editor: Heather Antos