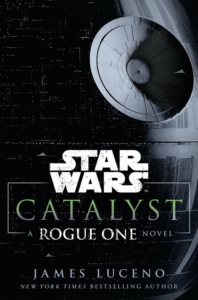 If you were amongst those who were disappointed that the first Aftermath book wasn't a more direct prequel to The Force Awakens, Catalyst will most definitely scratch that itch for you for Rogue One. Set during the Clone Wars and the early years of the Empire, Catalyst dives into the long history between Orson Krennic and Galen Erso. I obviously haven't seen Rogue One and only know what the trailers have told us but after reading Catalyst, I can't help but feel that this book is a must read for any Star Wars fan who really wants to enhance their first viewing of the film next month. That's just one of the reasons why I absolutely recommend picking up Catalyst by James Luceno today at your earliest convenience. Or right now. Now would be good too.
If you're a Luceno fan, you'll definitely enjoy this book. The writing style is less dense than Tarkin and will appeal to more people but you'll probably still learn a new vocabulary word or two. Luceno does a wonderful job of weaving the tale of the slow burn manipulation of Galen Erso across the years without ever leaving the readers lost and wondering exactly when we are. (An impressive feat unto itself.) Primarily, Catalyst is told from the point of view of Lyra Erso, Orson Krennic, and a smuggler named Has Obitt but very rarely from Galen's. It may seem an odd choice but it works oh so well especially since it can so often be a struggle to get Galen out of his own thoughts and scientific musings.
Although Catalyst is very much a character showcase, it also serves to show a different side of a story than what we already know along with expanding the galaxy a little. What was the last time we got the scientist's point of view during a war? Catalyst may lack the grand battles that so many assume are synonymous with Star Wars but more than makes up for it with its characters. It's a big galaxy so it's nice to see its other facets.
While the book establishes Krennic as being someone you definitely don't want to cross, the real standout here is Lyra Erso who is also the hero we need and deserve. While some may be disappointed that she's not a scientist like her husband, she is most definitely her own person and a complex character. We spend a lot of time in Lyra's head and it is absolutely to the book's benefit. While yes, the book revolves around Galen and Krennic's slow manipulation of him, Lyra has agency and keeps trying to do what's best for their family. She doesn't just sit there and fret about Galen or just let things happen. She plays an active role in trying to get to the bottom of just what Krennic's ultimate plan for Galen is. Lyra is exactly the sort of capable female character we need to see more of in Star Wars because she shows us that strength isn't found in combat alone.
Catalyst will definitely raise your excitement for Rogue One to critical levels. Luceno has done such a wonderful job of weaving together bits and hints of Rogue One into this prequel while also telling a complete story that can stand on its own merits. This is definitely one that Star Wars fans should pick up soon.
Thank you to Del Rey for providing an early copy of the book for review purposes.