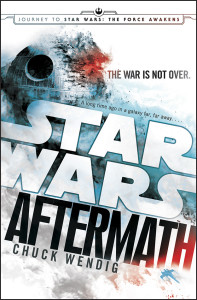 It's our first new taste of post-Return of the Jedi galaxy. Star Wars: Aftermath by Chuck Wendig hit bookshelves and eagerly awaiting hands at midnight. No fear though: this review will be spoiler free.
It's been several months since the Battle of Endor and now the Rebel Alliance is attempting to establish itself as the New Republic. Wedge Antilles goes on what should be a simple scouting mission but soon finds himself captured by the forces of Admiral Rae Sloane as he stumbles into the location of a high-level Imperial summit. The only person to hear his distress call is Norra Wexley who just wants to be reunited with her son but she can't abandon one of her fellow Rebellion pilots no matter how dangerous this new rescue mission might be.
I'm not sure if it's just because I read this book at lightspeed but Aftermath moves very, very quickly. There's barely a moment for the characters to breath but it's clearly by design. Readers, on the other hand, get those moments in the form of the interludes set on a dozen different planets. (Taris and Tatooine will likely be discussed plenty in the coming days.) A side effect of this breakneck pace is that it's likely to give readers more than a few mini heart attacks at times. It's an effective, page-turner to say the least.
Wendig's signature humor, so readily evident on Twitter, finds its way into the book's pages at times, providing a touch of levity to what's a decidedly serious story. This is perhaps never more readily apparently than through his characterization of Temmin's war droid Mister Bones who may just have been my favorite character.
Wendig also builds a strong core cast of characters with an equal gender divide amongst his main protagonists and a more than competent female antagonist. Norra, her son Temmin, Jas Emari, and Sinjir Rath Velus are all unique voices with their own reasons for becoming involved in his mission. The women particularly stood out to me as a reader and I could easily read more stories about Jas' previous bounties. Norra, on the other hand, is continuously torn between wanting to be a good or rather a better mother to her teenage son and her need to serve the New Republic's cause. Quite frankly, it's fantastic to see a capable lady like Norra who isn't defined by just one of those aforementioned characteristics or even just the two of them. On the flip side of this war, we have Rae Sloane who continues to be just as awesome as she was in A New Dawn albeit with heavier rank bars on her uniform. The Empire couldn't ask for a more dedicated nor a better officer to lead their remnants. (If you're looking for a book starring Wedge Antilles though… this is not the book you're looking for.)
One thing that this book really excels at is painting a picture of a diverse galaxy in this post-Endor world in addition to its focus on Akiva. Not only is it a galaxy that's sexually diverse (and doesn't make a big deal about being so) but it's clear that not all planets reacted the same way to the Emperor's demise anymore than all of the people who live on them did. It's refreshing and really helps grow the galaxy. It also sets up the New Republic in its early days under Chancellor Mon Mothma and potentially shows why we may be back to having the Resistance in thirty years.
Throughout the story are speckled little tidbits and references. While I suspect that a certain one on page 52 will get plenty of attention, it's the references throughout that really show how much the author loves this universe he's getting to contribute to.
Oh. And by the way? Make sure you read all the way to the end. Trust me on this one. Not only does it lay out the groundwork for how this seemingly standalone book will become a trilogy but it will most certainly spark plenty of debate in the weeks to come.
Star Wars: Aftermath gets a 4/5 from me along with a recommendation to read!