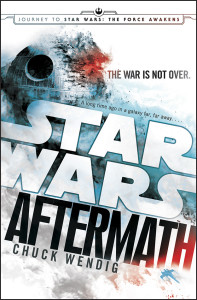 I usually hate reading present tense prose, at least in professional fiction.  It's always lent itself to fanfiction in my mind for some reason, so when I read the first excerpts of Aftermath when they were released, I wasn't impressed.
Boy, was I wrong.
I read Aftermath in between feedings and diaper changes of our new little Jedi-in-training, and every time I set the book down, I looked forward to picking it back up again, and had the book come out before Little Jedi's arrival, I probably would have read it all in one sitting.
Many of you know that I am, by trade and training, a professor of literature.  So while the rest of our staff has reviewed Aftermath based on its content, I want to focus on the style and why it works so well for this novel.
Wendig's prose being "unreadable" has been one of the major complaints leveled at Aftermath, though in the grand scheme of things, I realize that this is a statement being used as a tactic by the Bring Back Legends crowd. I admit, when reading the excerpts, I thought it was going to be unreadable as well.  But that was before I realized precisely what Wendig was doing.
This book is about war, pure and simple.  And though glorious as war may seem when viewed through the lens of the Star Wars movies, nothing could be further from the truth, and Wendig takes that on.  This book literally is the aftermath of the Death Star's destruction, complete with the chaos and upheaval throughout the galaxy.
Past tense is, by its very nature, distancing.  It removes the reader from the action, no matter how well written.  Present tense, on the other hand, provides a sense of immediacy to the action, plunging the reader into the events taking place.  The present tense gives the reader the sense that this is happening right now, rather than a long time ago in a galaxy far, far away.  As the characters live through the events taking place, so do the readers.
Wendig manages to underscore this immediacy of war through other methods as well.  His chapters are very short, making the action move even more quickly.  And there is a lot to keep up with in this book.  There are a lot of characters involved–many of whom are either only mentioned once or who don't survive, showing how war leaves no one untouched and drags in even the unwilling.  The few non-rushed moments of the book are ones where planning is taking place, and even then, there is still a sense of urgency.
There was quite a while during my reading where I wondered if our main characters were ever going to meet one another.  That too, showed how war works–lots of little battles in the context of a greater conflict, a few people making small differences here and there, stirring up into a greater societal upheaval, reminiscent of the Arab Spring movement, in which the people take power themselves, despite real costs in lives to do so.
Another complaint I read about Aftermath was the fact that there were very few recognizable characters.  But again, I think it works here for the cast to be made up of almost entirely new characters.  Once again, it shows how ordinary people get sucked up into a war, even if they had no intention of fighting in it, and how those who were already in the war deal with being out of it–even for a short time–and then dragged back in.
So while I was skeptical about Wendig's prose when I began, it very quickly sucked me into the novel, and I enjoyed Aftermath more than any other Star Wars book I've read since Vision of the Future.  They're two entirely different books with two entirely different styles (and now in two entirely different timelines)–and they were both fantastic.  Wendig has made me a believer, and I'm looking forward to seeing what else he–and others–come up with in this new timeline.
But first, I need to go change a Little Jedi.