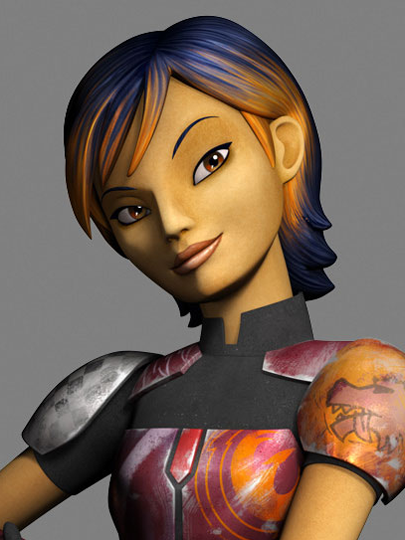 It's been and up and down season of Rebels for me. Every now and then, there's a great character episode I love to pieces, but mostly it's been Ezra, Ezra, Ezra and more Ezra. This episode was a whole lot more of the former than the latter.
Sabine had an episode to shine earlier this season, but for large chunks of the second season run it feels like she's been sidelined. That definitely isn't true in this episode. We get a little bit of everything. Attitude and characterization for Sabine, Madalorian backstory, and even Kanan proving that Hera is his anti-Idiot ball.
The crux of the episode is the Rebels are searching for a new hyperspace route since the Imperials are cornering them left and right. Sabine suggests a shortcut through Mandalorian space, which prompts her to leave with Hera and Phoenix squadron to secure safe passage. The Mandos aren't happy to see them, a few members of Phoenix squadron are killed, and Hera is badly wounded. Thus sends Sabine on a Western-style quest for vengeance. VENGEANCE!
I could keep breaking down the plot and the set piece detail, but let's get into what made this episode so great. Sabine finally, after really a season and a half, had a chance to shine. She's been begging Kanan and Hera for a chance to prove that they should trust her, and in this episode she made it clear why everyone needs to stop doubting her. Sabine is more than just an artist and explosives aficionado. She proves she's smart and more in control of her emotions and surroundings than anyone has given her credit for.
If there's something I'll take issue with in this episode, it's going to be something that has bothered me all season. Every episode seems to find a new way to sideline Hera. This time around, it's putting her in the medbay. As great as this episode episode was, imagine how much better it would have been if it was Hera in Kanan's place. Just let Hera do something outside of the one token episode about her, please.
Overall this is probably my second favorite episode of the season, right behind Wings of the Master,  and one of the better ones in the whole run. More character focused episodes, please!