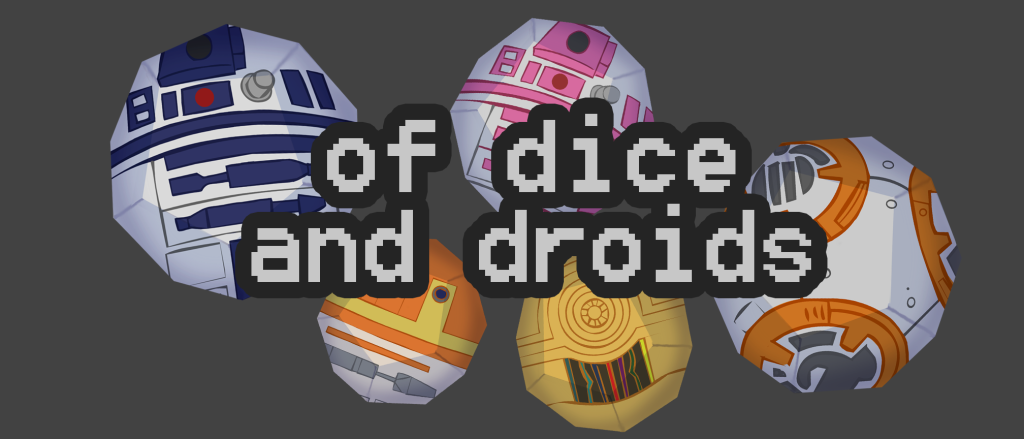 Welcome to Of Dice and Droids, Tosche Station's official tabletop gaming project!
So what exactly is this? Well, it's is a podcast that will be all about pen and paper Star Wars RPGs. We'll be talking about the mechanics of tabletop gaming, how to put a campaign together, how to play, and answering questions from listeners. The centerpiece, though, is an actual campaign that we'll be recording for a twice-monthly podcast. You can learn more about the players, the game, and the story here!
Be sure to subscribe on iTunes/Google Play to hear all of the adventures! You can also subscribe to the Tosche Station Radio master podcast feed  (iTunes/Google Play) for even more great Star Wars  and geek culture content.
The current roster:
Tom: Game Master, Holder of the Title Darth Internous
The Rebels
Brian Larsen: Editor here at Tosche Station

Nanci Schwartz: Editor here at Tosche Station

Rocky: Contributor at 1138
The Mercenaries
Sho: Contributor here at Tosche Station

Jay: Contributor at 1138

Saf: Contributor here at Tosche Station and at every fansite in the multiverse
THE END OF ALL THINGS
SIDE EPISODES