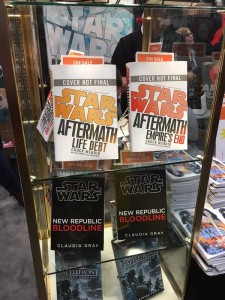 It's New York Comic Con, which means it's time for Star Wars literature announcements! At the big Star Wars stories panel at NYCC, the following stories were announced
New Republic: Bloodline by Claudia Gray. This novel will take place six years before The Force Awakens
Aftermath: Life Debt and Aftermath: Empire's End by Chuck Wendig
A short story about the aliens in Maz Kanata's castle will be penned by Alan Dean Foster and appear in Star Wars Inisder
The Perfect Weapon by Delilah Dawson will be an electronic short story
Tales From a Galaxy Far Far Away by Landry Walker will contain a series of short stories.
For dates and more information, be sure to visit the link above!