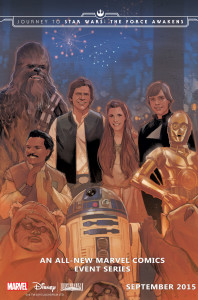 Over on starwars.com, Greg Rucka discusses writing Shattered Empire, Marvel's contribution to the Journey to The Force Awakens project. The first issue of the four-part miniseries will be out September 4, with the trade listed for release November 17.
The comic will span several months after the Battle of Endor and surrounds two new characters, Shara and Kes Bey. A married couple and part of the Rebel Alliance, Shara and Kes soon realize defeating the Empire is going to take much more than killing the Emperor.
Be sure to keep an eye out for our interview with Heather Antos from Marvel, going live today, as she talks some more about what to expect in the series.