Ashoka and Expanded Universe fans are in for a treat courtesy of Her Universe. In an e-mail that went out earlier this morning, fans were notified that new shirts are incoming!
It's July… so that means only one thing…San Diego Comic Con! Get ready for exclusives, new merchandise, and exciting conversations! Her Universe will be at Comic-Con in full force and we hope to see you there! We'll have a booth in the Star Wars Pavilion (#2913-F) at SDCC, providing fans with a unique experience. We'll have all new merchandise for Star Wars, Doctor Who, The Walking Dead, Star Trek, and Battlestar Galactica. We'll also be debuting new Star Wars designs every day. 500 Return of the Jedi necklaces will debut on Wednesday, 100 Dave Filoni designed "Ahsoka's Choice" shirts on Thursday, 100 Jaina Solo shirts on Friday and 100 Mara Jade shirts on Saturday. Each Jaina Solo and Mara Jade shirt will come with a free book courtesy of Del Rey publishing! Lots going on, plus a Her Universe panel! Read about it here. For those NOT going to San Diego Comic Con, do not fear! You can celebrate SDCC from home…all of the merchandise (except the ROTJ necklace), plus more, will go on sale on our website on July 18th. There is Comic-Con love for all!

Best Wishes,

Ashley
And just what do these new shirts look like? Here you go.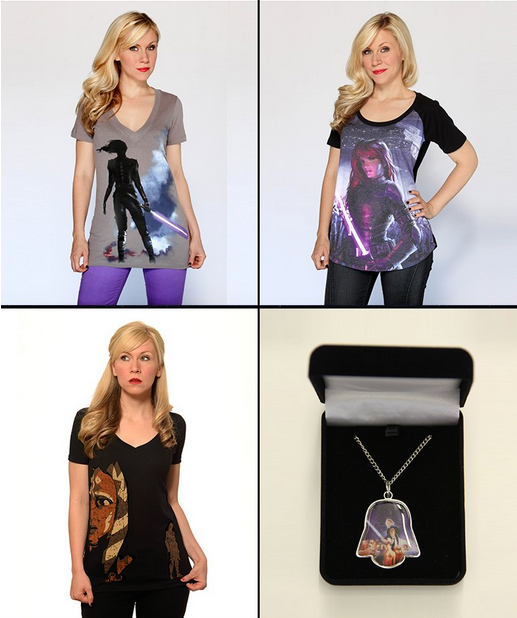 That's right. A Jaina shirt based on the Sword of the Jedi promotional art and a Mara Jade shirt using the Choices of One paperback art. Finally, a Mara shirt that doesn't feature the catsuit!
These new items (except the RotJ necklace) are available on the Her Universe website starting July 18th.