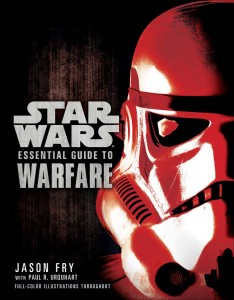 Another week means another batch of Essential Guide to Warfare endnotes from author Jason Fry. On the docket this week: superweapons and starfighters.
The Death Stars, the Tarkin and Other Superlasers: As you might expect, weaving the many, many Death Star tales into a coherent narrative was an exhausting continuity slalom. The parallels between the Death Star's early troubles and those of the Malevolence are there on purpose. In retelling the Battle of Yavin, I stripped events down to what we see in the movie, plus Blue and Green squadrons – whose fighters get a mission I think makes sense.

Why didn't I mention the various other elements added to the Battle of Yavin in assorted videogames? Because, to be frank, I think they're great games but not so great storytelling. I think Rookie One's exploits and the Imperial ground raid muddy the drama of the attack we see in the movie, while additions such as the Death Star's support fleet and communications satellite lessen the power of the stark contrast between tiny fighters and a massive battle station. If you like those elements, you're perfectly welcome to use them to fill in the blanks in Warfare's narrative. Same goes for IG-88 getting ready to run the show from inside the Death Star II, I suppose.
I can think of a person or two that will be thankful for downplaying the importance of video games in the overall Star Wars narrative. Sure, Rebel Assault might have been a fun game, but ye gads, trying to shove that into canon is an exercise in futility and misery. It's okay for certain things to not be canon, people.
I'm a fleet junkie, so I rather enjoyed Fry's look into starfighters and squadron rosters int his batch of notes.
Duty Roster: Red Squadron: This was another section I was really excited to tackle. Note that Red 12 finally gets a name, chosen after sorting through a number of candidates. They were Naeco (original X-wing game), Captain Ernek Marskan (same), Fin Danglot (Galaxy Guide 1), Travis (a blonde woman from Marvel's retelling of A New Hope back in the Droids kid's comic – how's that for obscure?), and Talos Merkin (Captive to Evil).

I liked the idea of using Travis, as I thought it would be fun to add a female pilot to the ranks and tip the cap to a really obscure EU tale. In the initial draft Travis was Red 12, but then Leland Chee and I saw an opportunity to address a continuity flub in A New Hope: When Red 10 gets shot down, the pilot we see die is someone else – a previously unseen male pilot with a helmet thatlooks like Janson's in The Empire Strikes Back. That pilot, we decided, should be Red 12. That decision took Travis out of the running, and as Plan B we chose Naeco to be the lucky (or unlucky) pilot, with Leland supplying "Puck" as a first name.
There's a whole lot of interesting stuff in this set of notes, so head on over to Jason Fry's Tumblr to read the rest.