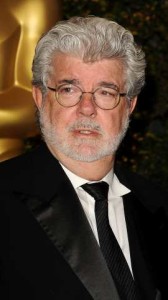 The Maker no longer has the reigns to Star Wars. But what does he think of the man now directing the franchise? According to Access Hollywood, Lucas seems upbeat on Abrams:
"Yeah, [I'm excited]. J.J.'s a great director and we're friends," George told Access Hollywood at the 2013 Crystal + Lucy Awards, when asked if he's looking forward to J.J.'s films. "I think he understands the whole thing and how it works.

"And if he doesn't, [Lucasfilms president] Kathy [Kennedy] will keep it straight," he added with a laugh.
He was also asked what his involvement with Star Wars will be moving forward. In his words,"If they need help or anything, they'll give me a call… Otherwise, I'm off on my own."