And here's the return to the aforementioned fandom inanity.
Last week, George Lucas registered for the ability to cash out his Disney stock in order to build Scrooge McDuck's Moneybin. Or use it for philanthropic efforts, one of the two. The Bearded Trio tracked down a Lucas representative to see if he was planning to cash out.
George Lucas has no intention of letting go of his Disney stock he acquired as part of the deal selling Lucasfilm to Disney. Now this is a clever move as the stock can only go up with another Avengers, Pirates Of The Caribbean and more Star Wars movies in the works. Disney's shares are likely to rise quite dramatically. Good move!
Who needs stock in Lucasfilm when you can have stock in Disney and their various money-printing licenses? Probably a wise call by Lucas. Disney as a company seems to be heading nowhere but Up* these days so hanging onto that stock for a while seems like a sound move.
*Up! Get it? I'm sorry. 
There's not a whole lot here to get excited about, mostly I just wanted to link to this story because of a fabulous photo of George Lucas The Bearded Trio dug up.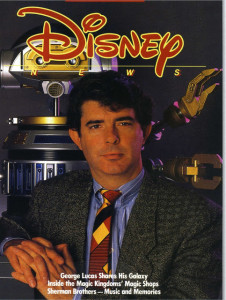 Is that not incredibly unsettling?