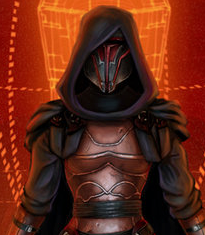 A long time ago in a galaxy far, far away… a girl got a bad idea.  Or perhaps it was a good idea.  Honestly, it depends on your point of view.  Today is a grand tradition in Tosche Station history.  Back in 2012, this marked the start of the Waru Express and in 2013, it marked the start of the Hondo Caravan.  I took two years off but this feels like the right time to start another big project.  2016 just feels like the right time to embark on a reread and replay of the Knights of the Old Republic comics and games.  
How's this going to work?  That's an excellent question!  I'll be covering the comics a few arcs at a time in a similar method to what I did with the Waru and the Hondo.  There will likely be squeeing and snark and also gifs.  Definitely gifs.  For the games, well… I'm still working on that part but there will probably be a post for every planet.  (Honestly, this part is up to you guys! I'm going to look into livestreaming my game play and maaaaaybe figuring out how to put together a short little highlights video for every post too.)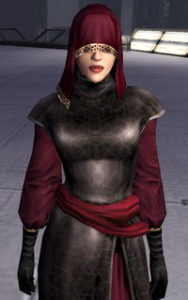 There is one twist for this particular project: cosplay.  I'll be working on a Visas Marr costume for Celebration/Dragon Con next year and it seems appropriate that I include any updates about the costume's progress as this retrospective moves along.  (It also has the side benefit of publicly shaming me if I don't get any work done on it.)
Knights of the Old Republic is one of those games that I adore and will always adore until the end of time.  I'm genuinely excited to reread the comics because it's been a few years and even more excited to play through the games again because R E V A N <3  This will also be the very first time that I'm playing through the second game with the cut content restored thanks to mods.  I look forward to having my heart broken.
If you'd like to follow my progress on Twitter, I'll be using the hashtag #HKExcursion.  The full list is below although the order of the planets for the games is subject to change depending on what I decide on playing first.  
Knights of the Old Republic Comics
Commencement
Flashpoint
Post #1
Homecoming
Reunion
Days of Fear
Nights of Anger
Post #2
Daze of Hate
Knights of Suffering
Vector
Post #3
Exalted
Turnabout
Vindication
Prophet Motive
Post #4
Faithful Execution
Dueling Ambitions
Masks
The Reaping
Destroyer
Post #5
Demon
War
Post #6
Knights of the Old Republic
Taris
Dantooine
Tatooine
Kashyyyk
Manaan
Leviathan
Korriban
Unknown World/Star Forge
Knights of the Old Republic II: The Sith Lords
Peragus
Telos
Nar Shaddaa
Dantooine
Dxun/Onderon
Korriban
Dxun/Onderon II
Battle of Telos
Malachor V