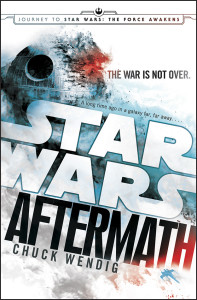 Well, the author is officially revealed, anyway.
A few days after Random House's publicity site let slip that Chuck Wendig would be writing the first Story Group canon era novel set after Return of the Jedi, Jen Heddle made it official. While she can't say much, Jen was able to tell us that this will be the first book in a trilogy. Also, this:
What I can reveal is that you will be introduced to a sweeping new cast of characters, along with a fan favorite from the films. And who knows what other familiar faces will pop up along the way? And once you've seen The Force Awakens in movie theaters, you may find that certain names and places in Aftermath have a relevance you never knew–so keep your eyes wide open!
Additionally as you can see on the right, the cover was released as well. I don't know about you, but I absolutely dig that look.
Welcome to the Star Wars community, Chuck!