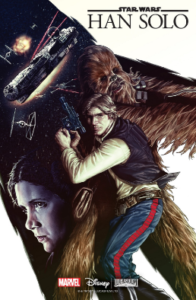 A lot of people are kvetching over Han Solo getting a limited series comic book because OH NO he's already getting an origin film. Those people should hush for a moment and read a very fun issue of Star Wars comics called Han Solo #1.
As our first female writer for this new batch of Star Wars comics, expectations were (unfairly) going to be high for Marjorie Liu but she rises to the challenge and delivers the set up for an all around fun story. More than any of the other books so far, this feels like a Star Wars book. A lot of that has to do with the fantastic artwork by Mark Brooks with an abundance of alien life forms in the background of every cantina scene. Every limited series has had its own unique vibe and I am digging this one so far.
This is a Han Solo who's not quite feeling himself. He's being overly careful when it comes to smuggling and he takes a dangerous mission when a Princess asks. We're used to seeing this cocky and confident captain so it's refreshing to see one who second-guesses himself even a little bit. What makes this book such a joy though is that it's still distinctly Han Solo. Harrison Ford's voice popped into my head at more than a few lines. Liu also has a good handle on Leia. One of the more delightful scenes involves Leia and Cracken arguing like Han's not even in the room and it all just feels right.
On the art front, it's nice to see another female colorist join the Star Wars family and it's equally nice to see some Mark Brooks interiors especially after so many of his great covers on the Kanan book. He can convey a lot about the characters with just a few panels an facial expressions and his work really helps bring the book together.
I think it's saying something that my biggest gripe with this book is that Airen Cracken has graying brown hair instead of graying red hair. Do you really need me to tell you that this was a great start to another series and to go pick the book up?
Han Solo #1: Marjorie Liu/Writer, Mark Brooks/Artist, Sonia Oback/Colors, Joe Caramagna/Letterer, Jordan White/Editor, Heather Antos/Assistant Editor