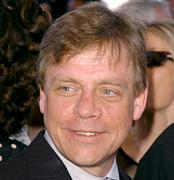 Yesterday, Mark Hamill sat down with the Hollywood Reporter to discuss all things Star Wars and San Diego Comic Con. As per usual, he was asked about his involvement and interest with the upcoming Episode VII. His response:
Hamill's hopes are high for the Star Wars: Episode VII reunion: "We want this to happen. How could I not take this ride? They're making all the right moves, like Michael Arndt as the writer. Little Miss Sunshine, Toy Story 3 — he writes humor and he writes heart. I'm not someone who looks to recapture the glory of when I was in my 20s. I think it'll probably be about the next generation. We'll be the link to the past, but the kids will be doing the heavy lifting. And the Wookiee will have a walker."
It's pretty clear at this point that Hamill is keen to do more Star Wars. You get the feeling that something's going to be confirmed on this front sooner rather than later.