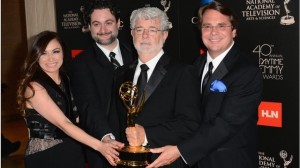 It took a little while, but George Lucas finally got himself an Emmy win.
With Carrie Fisher presenting, Lucas, Dave Filoni, and other Clone Wars staff took home the award for best animated series. The show won another Emmy for David Tennant, who played the Jedi mentor droid Huyang in the show's final season.
It's certainly a well deserved win for the Clone Wars staff. While the show may have ended earlier than many fans would have hoped, there's no arguing it went out on the highest note possible.