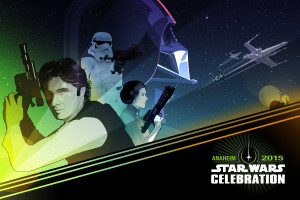 In addition to giving you a chance to be a part of the podcast, we've got a few more reasons you might want to show up to the live recording of Tosche Station Radio at the Celebration podcast stage at 10:30AM  on Sunday. Fabulous prizes!
By showing up, you'll receive a raffle ticket and may just win one of these awesome giveaways:
A hardback cover of Lords of the Sith by Paul S. Kemp (win it before the street date!)
A Hera action figure
A copy of The Essential Guide to Warfare by Jason Fry
A copy of The Essential Atlas by Dan Wallace and Jason Fry
A copy of Kenobi by John Jackson Miller
A copy of Honor Among Thieves by James S.A. Corey
An amazing mystery prize!
Again, all you have to do win one of these prizes is show up at room 208A at 10:30AM on Sunday. We look forward to seeing you!